These Are the Official Long-Awaited Selections for the 2015 Cannes Film Festival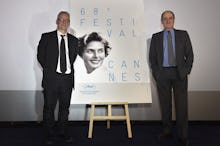 Le Festival International du Film de Cannes, or the Cannes International Film Festival, one of the largest and most prestigious in the film industry, finally announced their official selections Thursday morning for the run of films that will be shown from May 13 to 24 in southern France.
With this year's jury co-led by brothers Joel and Ethan Coen, 43 films were selected for screening in the various categories.
In competition: This main category includes 18 films a jury will consider for the festival's grand prize, the Palme d'Or.
Jacques Audiard's Dheepan
Un Certain Regard: This is a collection international films, often with unusual vision, which deserve recognition and are in parallel competition to the Palme d'Or.
Neeraj Ghaywan's Masaan
Out of competition: While these films have the honor of being viewed in the festival, they are not competing for a prize.
Woody Allen's Irrational Man
Special screenings: These are presented in a specific environment which corresponds with the identity and essence of the films. 
Souleymane Cisse's Oka
Midnight screenings: Screened at midnight...
Hong Wan-Chang's Office
Films to watch out for: A number of films in the main category feature Hollywood powerhouses and are likely to garner attention on this side of the pond. These include Carol (Cate Blanchett and Rooney Mara), Sea of Trees (Matthew McConaughey and Naomi Watts), Sicario (Benicio Del Toro, Josh Brolin and Emily Blunt) and The Early Years (Rachel Weisz and Michael Caine).
Pixar's Inside Out also made the cut, which should be characteristically charming and whimsical. And, of course, scores of fans eagerly await The Little Prince.
Initially started so that France could rival Italy's Venice Film Festival, Cannes was supposed to premier in 1939. However, the events of World War II delayed the launch of this cultural celebration to 1946. In the intervening decades, it has become one of the most revered film festivals in the world.
Keep your eyes and ears open for these flicks, which will make their way into theaters in the next year.