Ricky Gervais Started a Firestorm with This Tweet of a Female Hunter and a Dead Giraffe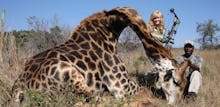 Rebecca Francis, a Utah hunter and mother of eight, provoked a firestorm of criticism when pictures of her smiling with one of her kills went viral Monday on social media. Comedian Ricky Gervais nailed it perfectly.
The photo was taken five years ago while the hunter was on a trip to Africa, but resurfaced Monday when Gervais tweeted it out to his 7.53 million followers.
Her website, which also directs viewers to a gallery of her kills that have spanned North America, Africa and New Zealand, shows Francis' proficiency on weapons from sniper rifles to bow and arrows, and she grew up hunting with her family. 
"My love for the outdoors flourished as I spent time every year hunting, camping, fishing, boating, hiking etc.," she wrote.
Francis has also appeared on television winning the television competition Extreme Hunting in 2010, and hosting another show, Eye of the Hunter, BuzzFeed reported.  
After the Gervais tweet, the social media reaction was swift and harsh.
Francis did have some supporters and responded to online criticism in a post on the Facebook page of HuntingLife.com. In a statement, Francis said of killing the giraffe, "I do not regret it for one second." She went on to justify her actions by pointing out the giraffe was old and "inevitably going to die soon." And that its meat was used to feed locals. 
If this feels a bit like deja vu, it could be because the story bears more than a passing similarity to the case of Kendall Jones. Jones, a then-19-year-old cheerleader and hunter, caused her own firestorm with Facebook photos of her standing over the carcasses of majestic African animals, many of which were endangered species. A petition signed by over 360,000 people called for her page to be removed, but it's been far from banned, Jones is now the Facebook verified host of her own YouTube show Game On and has over 800,000 fans.
Despite tales of poaching and animal extinction, Francis and Jones likely didn't break any laws. Hunting permits are legal, and exist, in some cases, even for endangered species. Often, expensive permit-granting schemes allow for large sums of money to be funneled back into the effort to save the overall species.  
In Francis' case, giraffes may be majestic and beautiful, but there's no risk it being wiped out. The International Union for the Conservation of Nature Red List of Threatened Species lists the giraffe in its "least concern" category.
Rather, the lesson, which seemingly went unlearned by Francis, is that if one must kill a beautiful animal for no reason beyond personal pleasure, don't put the photos online.