Laverne Cox Posed Nude in a Magazine for the Best Reason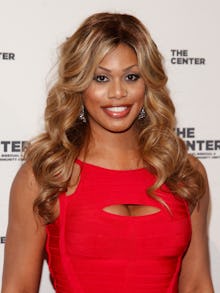 Laverne Cox can't be confined to a single role. But the actress, producer, activist and one of Time's newly announced 100 Most Influential People can add "nude model" to her list of titles. The actress appears sans clothing on the cover of this month's Allure magazine — to prove a point for women like her. 
While Cox originally turned down the request, she told Allure why she ultimately reconsidered. "I'm a black transgender woman," she said. "I felt this could be really powerful for the communities that I represent."
"Black women are not often told that we're beautiful unless we align with certain standards," Cox told Allure. "Trans women certainly are not told we're beautiful. Seeing a black transgender woman embracing and loving everything about herself might be inspiring to some other folks. There's beauty in the things we think are imperfect."
Cox's observation is backed by fact. Studies show that black women are underrepresented in the media — and when they are represented, they are often portrayed in a damaging, stereotypical manner. Transgender individuals are also largely underrepresented in media, and furthermore often only receive media coverage in relation to the violence perpetrated against them.
Cox's inclusion in Allure's annual Naked Truth issue is all the more meaningful given this unfortunate reality. This depiction of Cox embracing her body is an undeniably important counterpoint to the images of trans women of color normally portrayed in the media.
But while Cox's decision to pose nude may inspire others, at the end of the day, it's most importantly a decision with which Cox is personally satisfied.
"I honestly just want to make myself happy most, and if other people like it, then that's great," she told Allure. "If they don't, then I'm still happy."