JoJo Is Back With Her First Official Song in 9 Years — and It's Stunning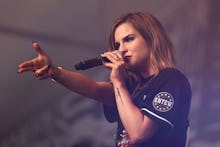 It's been nearly nine years since JoJo, the teen R&B idol of the mid-2000s, released her last official album. She came storming back Thursday with a brilliant new song, "Far From Heaven." It's the first official release since 2006's The High Road, and it's amazing.
Source: Soundcloud
A blast from the past. JoJo, born Joanna Levesque, first appeared on the music scene in 2004 as a 13-year-old singer bound for pop stardom. Her debut album, JoJo, flaunted the single "Leave (Get Out)," and spawned other hits with "Baby It's You" and "Weak." That album reached No. 4 on the Billboard 200. 
Her sophomore album, The High Road, was released in 2006 to rave reviews and reached No. 3 on the Billboard 200. That album's single, "Too Little, Too Late" peaked at No. 3 on the Billboard Hot 100, and shot JoJo into position as a hit-maker with staying power. 
Label troubles: But JoJo's reign came to an abrupt end when her third album failed to see the light of day. In a legal dispute with her former label, the singer claimed that Blackground Music had failed to release the album; part of her defense was that, since she signed her record deal as a minor, after seven years she was no longer legally bound to the contract. In 2013, JoJo was finally released from the label thanks to that legal action, and in December of that year, she signed to Atlantic Records. 
"It's just been so long since I've released an album that really what I wanna bring is just quality," JoJo told Rap-Up last May. "I wanna bring big songs. I want them to touch a wide range of people and I really want it to represent my very best work. I'm really not thinking about what other people are doing. I'm thinking about representing my personal best, delivering powerful vocals, and being honest and as raw as possible."
Now JoJo is putting the finishing touches to her third album. On April 9, she posted to Instagram that she was about to start mixing the record. If it sounds anything like the song she just released, the album promises to be another stunner. JoJo is back.