One Infograph Reveals Australia's Deadliest Predator in 2015 — And It's Not Who You Think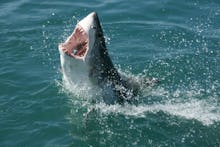 Sharks. Redback spiders. Freakin' vicious magpies that will poke your freakin' eyes out.
Australia is full of deadly predators. But, for women, the deadliest predator of 2015 is not any of these creatures.
It's the Australian man.
In just the first 14 weeks of 2015, 31 women have been killed in Australia, some by strangers, but many by men they knew or had relationships with. Zero women have been fatally attacked by sharks, and, according to the most recent data, only one man has been killed in a shark attack this year.
Women have had enough. This week, women across Australia and around the world have taken to social media to raise awareness about the country's appalling rate of violence against women, some using an image comparing one well-known Australian predator — a shark — to the men who prey upon their wives, girlfriends, and female acquaintances.
The shark statistic is a pointed illustration of Australia's domestic violence epidemic. According to shocking statistics the Australian reported this week, a third of women older than 15 in the country experience "physical or ­sexual violence by someone they know." Each week, a woman "is killed by her partner or former partner. They are most likely to die in their own home." 
The White Ribbon Project, an Australian campaign to end violence against women, cites 2013 World Health Organization data with chilling implications: "Intimate partner violence is the leading contributor to death, disability and ill-health in Australian women aged 15-44."
"The common thread here of course is the greatest risk of being a victim of gender-based violence is being a woman," Australian writer Michael Costigan, whose niece Tara Costigan was murdered by her ex in February, told ABC News. "We know that for young women under the age of 45, the most likely cause of death or injury is domestic violence. This is a scourge, it is an epidemic in our society." Even December's Sydney Siege assailant, Man Haron Monis, had been charged as an accomplice in the murder of his ex-wife and faced more than 40 counts of domestic violence just two months before the attack. 
But after the rash of killings this year, it was the violent death of the 30th victim, Stephanie Scott, that created an uproar. Scott, a schoolteacher, was murdered by the school's janitor before he set her body on fire (which suggests she may have been sexually assaulted) and buried it in a nearby bush just days before her wedding.
The question is whether their government will listen and do something to stem this violence. Conservative Prime Minister Tony Abbott, who declared himself the Minister for Women, is a notorious misogynist. He's even gone on record saying that men have a "right to demand" sex from women. Women's groups collectively penned an open letter to him with a referendum, published today, and await his response.
Dame Quentin Bryce, the former governor-general, explained to ABC earlier this month that even if Abbott decided to take action, violence against women is a part of a larger cultural problem. "The truth is that domestic and family violence is caused by unequal distribution of power and resources between men and women," she observed. 
"It's about the rigid gender roles and stereotypes that characterize our society — the culture and the attitude that support violence against women."
Australia's men need to get in check and re-examine their masculinity, because Australian women have had enough.