Watch an Entire Highway Come to a Standstill for Holocaust Remembrance Day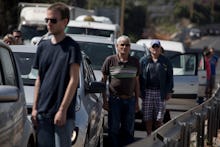 Every year, Israel stops what it's doing on Holocaust Remembrance Day and reflects in silence on the atrocities of the Holocaust, honoring the 6 million Jewish people killed during World War II. 
This technically included two days in 2015, starting with a speech Wednesday evening by Israeli Prime Minister Benjamin Netanyahu, followed by the sounding of sirens and a national moment of silence Thursday morning. 
Drivers in Tel Aviv, at 10:01 a.m. local time, stopped their cars and stood silently in the highway in remembrance.
This video from last year also offers an amazing angle of the ritual:
Seeing a busy highway come to a complete, uniform stop simply isn't the kind of thing you see every day.
Significance of the day. Holocaust Remembrance Day falls on the 27th day of the Hebrew calendar's month of Nisan, the day of the Warsaw Ghetto Uprising in 1943, when German forces attempted to transfer Jews from their ghetto to concentration camps. An armed Jewish resistance delayed the process, killing a number of SS officers. 
"This day is extremely important for people who lost loved ones; they don't have a day to remember them as many don't know when their family died," David Marwell, director and CEO of the Museum of Jewish Heritage, told Mic.
Marwell believes in the necessity of remembering this day collectively, as a nation, because the Holocaust is inextricably bound with the identity of Israel. 
However, while the need to remember and honor victims is largely undisputed, Vox warns that Israel's relationship with the Holocaust is frequently misconceived: "The idea of Israel is in part an answer to a sense of existential insecurity among the world's Jews, but that has been true since decades before the Holocaust occurred, and it will remain true many years after the last survivors pass away of old age."
Never forget. Historians and the older generations — that is to say, survivors and children of survivors — are concerned that young people will cease to understand the significance of the Holocaust, as future generations will inevitably have increasingly tenuous links to the events.
Sharing the experience helps weave its significance into the fabric of collective memory, ensuring the legacy of the survivors will live on.
"We support the monumental and crucial task of preserving [Holocaust victims'] memories and documenting the evidence of history's greatest crime so that generations to come will not forget," Hillary Kessler-Godin, communications director at The Conference on Jewish Material Claims Against Germany, wrote in an email to Mic.
The need to remember in order not to repeat history's mistakes makes this day all the more important. While some believe more lessons could be drawn from these tragic events — and there is a certain irony to the existing partition of Palestinians — the hope is humankind can continue to learn from our reprehensible mistakes and preserve humanity going forward.