Kendrick Lamar Just Revealed Who He Thinks the Best Rapper in the Game Is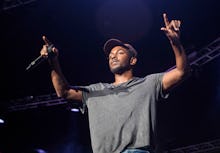 Kendrick Lamar is terrible at social media, but on Wednesday afternoon, Top Dawg Entertainment's label boss talked Lamar into answering questions on Twitter. One user asked the inevitable rap stan question: "Who's your favorite artist in the game right now?"
Lamar's answer may surprise anyone who thinks hot hip-hop begins and ends with Kanye West:
Earl, who? Earl Sweatshirt is a member of the rap collective Odd Future, led by crazy person-turned-media mogul Tyler, the Creator — it also encompasses Frank Ocean, Domo Genesis, Hodgy Beats and producer Left Brain. Ever since Earl Sweatshirt released his first mixtape at age 16 — opening with the epic lines: "Yo, I'm a hot and bothered astronaut / Crashing while jacking off to buffering vids of Asher Roth eating applesauce / Sent to Earth to poke Catholics in the ass with saws / And knock blunt ashes into their caskets and laugh it off" — his assonant flows have caused mass hysteria in the underground rap community.
Earl Sweatshirt created much of Odd Future's early buzz, but in 2010 he went missing, slipping off to a boarding school for at-risk children in Samoa. "Free Earl" became Odd Future's mantra in the interim. And when he returned with 2013's Doris, his music had matured. There was less violence and talk of rape, more insight and introspection. Earl's most recent dark and misanthropic I Don't Like Shit, I Don't Go Outside will be considered one of the strongest hip-hop offerings of 2015, but it's been largely obscured by bigger stories. And now with a co-sign from the most impassioned MC since Tupac, it may finally reach the audience it deserves.
Lamar is doing him a huge service. To Pimp A Butterfly and Earl's I Don't Like Shit, I Don't Go Outside were both supposed to come out March 23. But Lamar's album leaked a week early, and Earl Sweatshirt's label ruined his planned surprise release by putting up a pre-order for his album the following day. Both camps cursed out their respective labels using the almost the same language. To Pimp A Butterfly's well-deserved press avalanche all but buried discussions of Earl's album.
And Earl was obsessed with To Pimp A Butterfly too. In a NPR interview, he discusses To Pimp A Butterfly twice. "Like, Kendrick's album is so fire," he told NPR. "I've had so many conversations with people about how Kendrick — 'Oh, it's a lot of subliminal.' Kendrick is not subliminal at all ... Kendrick is very straightforward with his message." He went on to say he feels his album shares these same qualities.
It seems the respect is mutual. Lamar and Earl Sweatshirt make an unlikely pairing — the born-again gangster from Compton, California, and the delinquent, reclusive skate rat who attended high school in Santa Monica. But they are two of the most impressive and continually exciting lyricists in the game, both resolutely exploring new rhyme patterns and soundscapes, pushing traditional hip-hop's boundaries. Here's hoping they collaborate someday.