Jon Stewart Perfectly Nails the Already Ridiculous Coverage of Hillary Clinton's Campaign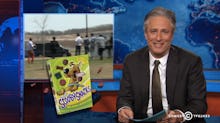 Coverage of Hillary Clinton's president campaign has been inelegant to say the least. After the former secretary of state announced her candidacy Sunday, the media frenzy has been focused on particularly minute details, something Jon Stewart took to task on Wednesday night's The Daily Show.
So far, cable news has covered everything from what Stewart called "Monday's Chipotle Tex-Mexxurection to Tuesday's 'oh my god oh my god ohmygod that's her car.'" The latter drew the majority of Stewart's ire, particularly for how ridiculous the image of dozens of adult reporters running looked.
The picture was almost Music Man-esque, Stewart pointed out: "The last time anyone in Iowa was this excited about a wheeled vehicle, the Wells Fargo wagon was bringing musical instruments they'd ordered from a charismatic stranger."
There is one potentially good reason to be running after the van as an adult, Stewart joked: "If you're not so much chasing the van as running away from Godzilla. Who, more than likely, would be chasing you saying, 'It's Day Two, people! Slow down!'"
We're in for a long haul. There are still 571 days until the 2016 presidential election, and we've already seen two ridiculous examples of campaign stories. The Chipotle story alone is already on day four of its life because Clinton didn't leave a tip. What President Barack Obama once called the silly season is growing longer and longer.
These stories aren't going to go away — they're going to get worse. It's a migraine, it's embarrassing and it is completely inevitable. All we can do is hope Clinton starts traveling in unmarked cars and never eats at fast food restaurants again.
Watch the full clip below.