Terry Crews Lip-Syncing 'Golden Girls' to Betty White Was Adorable, and the Next Big Thing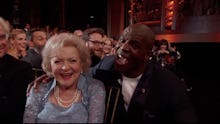 Turns out Ashlee Simpson wasn't wrong to lip-sync on Saturday Night Live. She was just ahead of her time.
In a promo for this Saturday's TV Land Awards, host Terry Crews does a lip-sync routine to a medley of old TV theme songs. It's as fantastic as one would expect, particularly when he does the Golden Girls theme song for Betty White. 
Perhaps unsurprisingly, the performance was pretty perfect.
It's also the latest example of a growing trend: lip-syncing not as an alternative to live performance, but as the performance itself.
With shows like Lip Sync Battle on Spike and apps like Dubsmash for creating your own lip-sync videos, the trend is on fire. Younger fans might be tempted to attribute the trend to Jimmy Fallon, who routinely features lip-sync battles between himself and his guests on The Tonight Show. That would be a mistake; the trend is much older than it appears.
Lip-syncing's roots go way back. Yes, performers like Michael Jackson began using a backing track to supplement dance-heavy performances in the 1980s. But in 1984, a TV show called Puttin' on the Hits took amateurs with moxie, gave them a track to mime singing to and had them compete for prizes. It even featured infamous O.J. Simpson trial witness Kato Kaelin in his television debut.
The show spawned imitators, including one called Lip Service on MTV, but the trend didn't explode on a wide scale. Instead, the idea of lip-syncing found its main home within niche communities, particularly in the world of drag. Few drag queens better exemplified that than the appropriately named Lypsinka.
Lypsinka, otherwise known as John Epperson, made lip-syncing his performance art. He wouldn't just perform to songs, but to whole movie scenes featuring female voices. According to the GLBTQ encyclopedia, he was inspired to lip-dub when he saw drag queens doing so at a gay bar while he was in college. Epperson's work was meticulous, and Lypsinka quickly rose to prominence in the '90s.
Contemporary drag fans likely know the lip-syncing form not from Epperson, however. Within the past few years, it's become far better associated with drag superstar RuPaul and her Logo reality competition show, RuPaul's Drag Race.
"The time has come for you to lip-sync for your life," RuPaul says near the end of every Drag Race episode. She calls up the two contestants who performed the worst in a given week and gives them one last chance to save themselves. "Good luck," she says, "and don't fuck it up."
Done poorly, the Drag Race lip-syncs can appear lazy and as an afterthought. But in the show's best seasons, the lip-syncing portion is the most popular part of the program. To watch two queens throw down in a fit of masterful, passionately executed performances is one of television's greatest current treasures.
After RuPaul and her queens had been on for several years, Jimmy Fallon started doing lip-sync battles on his late-night shows. Competing against celebrities, Fallon and his guest go back and forth with prepared songs, performing separately as opposed to Drag Race's simultaneous duels. While perhaps a bit more static than watching two drag queens digging in, it's a wildly popular segment.
The form Fallon popularized has found a new home on TV, though: Lip Sync Battle. On Spike's new show, two celebrities each lip-sync prepared songs with rehearsed routines. Some of them are a bit simple, while others are more like Anne Hathaway performing Miley Cyrus' "Wrecking Ball."
Who knew Anne Hathaway would be the one to perform with the tenacity of a drag queen?
Lip-syncing is probably gonna be popular for a while. The trend is just hitting a fever pitch, and it's not hard to imagine hosts of other shows busting out the lip-syncing routines. Perhaps Ellen will be switching out dancing for lip-dubbing soon? One can only hope.
While it's always interesting to see something with major ties to the gay community break out in a big way, a la the term "throwing shade," it's vital to remember its history. With the spread of a trend, the weaker it often becomes — again, a la "throwing shade," which is used as more of a blanket term now than its more specific origin intended.
Lip-syncers would be wise to channel the spirit of drag queens and other legends of the form when they go for it. Keeping the passion and investment in truly performing well, not just being sloppy, is what's going to keep lip-syncing fun. In other words, we need more people like Anne Hathaway on shows like Lip Sync Battle. And for fans of that show: Check out Drag Race sometime. Where else are you going to see two divas whip their wigs to the sounds of Willow Smith?