4 Years After a Revolutionary New Approach to Drugs, Here's What's Happening in Seattle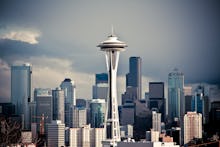 Count this as a case study on the benefits of keeping your enemies close.
About 10 years ago, Lisa Daugaard and the Seattle police were at odds, according to a report by Saki Knafo at CityLab. As the director of a special team at the Seattle Public Defender Association, Daugaard was leading a crusade against Seattle's criminal justice system. She had worked for years to expose and counteract racial discrimination in the way the city handled drug crimes. Like many other American cities, Seattle treated minorities quite a bit differently than the rest of its population. But one day things changed. 
According to CityLab, Steve Brown, former captain of the city police's narcotics unit, agreed to sit down with Daugaard and think about some solutions — together. While Brown did not concede that racism was pervasive among the city's police force, he was open to exploring alternative methods for dealing with drug crimes and addiction in Seattle. After several coffee shop conversations, they hatched the plans for what would eventually become Seattle's Law Enforcement Assisted Diversion program.
The program, launched in 2011, operates from a premise essentially opposite that of the war on drugs. Instead of harsh punishments, LEAD focuses on bolstering addicts' welfare in order to decrease crime and initiate rehabilitation. Four years in, there are already signs that the system works better in Seattle's most deeply drug trade-afflicted neighborhoods than the usual path of deprivation. 
Social work instead of police work: LEAD provides a police officer with two choices for dealing with someone suspected of low-level drug crimes or prostitution. The first option is the usual route of booking and prosecution. The second is an option to "divert" — the suspect can be directed to harm reduction-oriented management if they agree to participate in a special program instead of facing criminal charges.
Knafo reports on the starkly different experience that people who enter the program have compared to their peers:
A social worker stops by the precinct, asks the offender some questions about her life, and produces paperwork for her to sign. From that point on, the offender is no longer an offender. The arrest is wiped from her record. She receives access to housing assistance, clean clothes, tuition for school, job referrals, health care, counseling, and many other benefits and services. All she has to do is meet with her social worker twice in the first month of signing up. She doesn't even have to stop using drugs.   
Promising results: A new study from the University of Washington has found that, compared with a control group who went down the typical arrest-and-prosecution path, people who worked with LEAD were 34% to 58% less likely to have committed new crimes since their first arrest.
"The stats are so robust, which took me by surprise," study co-author Susan Collins told Vice News.
Some of the program's participants have reported life-changing experiences after LEAD helped them find housing and jobs.
"They threw me a life preserver," Wade Johnson, a 35-year-old Seattle resident who struggles with drug addiction, told Vice. "They helped me build bridges back with my family, I'm very employable now. I have a lot to live for. They put me on a platform."
Future studies fleshing out the ways LEAD has influenced participants will be essential to determining if the program can scale and be replicated. Declines in repeat criminal behavior are one metric for measuring its success, but drug policymakers will also want to know if LEAD can improve physical and mental health outcomes.
LEAD's program bears strong resemblance to the Portuguese model. Portugal has become the north star for proponents of alternatives to the war on drugs since it decriminalized all drugs and introduced a variety of health and counseling services for addicts in 1999. The Portuguese criminal justice system was freed from spending a huge portion of its resources on drug crimes, and it simultaneously saw drug use and health outcomes improve.
Other cities across the United States, including Albany, New York, are already looking into programs modeled on LEAD, which will need new funding allocations in Seattle as of 2016. Given the Emerald City's preliminary success, others would do well to take note.
h/t Vice