The New 'Star Wars' Trailer Is Here — With Some Epic Surprise Guests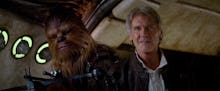 "Chewie, we're home."
A second teaser trailer for Star Wars: The Force Awakens shows more of the updated Star Wars universe, gorgeous shots of flight scenes and an impressive amount of world-building for a two-minute clip. But by far the most important appearance comes in the teaser's final moments: Harrison Ford, standing by furry friend Chewbacca, welcoming us back to the Star Wars universe.
The trailer debuted at a panel during the Star Wars Celebration in Anaheim, California. The panel, featuring director J.J. Abrams and producer Kathleen Kennedy, included talk about the mechanics behind robots like R2-D2 and appearances by the film's human stars as well. 
The older generation represented themselves well, with Carrie Fisher, Mark Hamill and company appearing, but the primary focus was on the new series stars. The Force Awakens' John Boyega, Oscar Isaac and Daisy Ridley showed off their characters' new looks, but remained as coy as ever about plot details.
During the panel, Abrams told fans that The Force Awakens uses minimal CGI effects; as many physical sets as possible were used to give the most realistic effects. As the trailer shows, that's paying off in spades.
Get excited.