Meet the Three Mexican Sisters Whose Viral Videos Just Got Them a Record Deal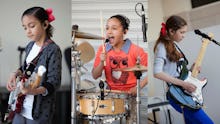 It's not often that the lead guitarist of Metallica says a drummer with a bow in her hair "kicks maximum ass." But that's what Kirk Hammett tweeted about 13-year-old Paulina when he saw a video of her and her sisters playing a cover of Metallica's "Enter Sandman." But Hammett was wrong about one thing — all three, who make up the band the Warning, kick maximum ass. 
That "Enter Sandman" video, which has nearly 5 million views, was one of several covers the Warning uploaded to YouTube that have since gone viral. The band also covered Twisted Sister, AC/DC and Guns 'N Roses, and in the process they've become an Internet phenomenon. On Tuesday, the band took a big step away from being only Internet famous. They released their debut original EP, Escape the Mind, and with it gained some real attention. All of a sudden, their basement dreams might just be coming true. 
Sisterhood: The Warning is from Monterrey, a city in northeast Mexico. On lead guitar and vocals, Daniela Villarreal (Dany) is the oldest band member at 16 years old. On drums and vocals is Paulina (Pau), 13, and on bass guitar is Alejandra (Ale), 10. The girls uploaded their first videos on YouTube for friends and family to watch their progress; they never expected to go viral, let alone sign a record deal.
"When we started playing, we really wanted to become musicians," Dany told Mic. "Only we didn't expect ..."
"That it would happen!" Pau finished. The girls finish each other's sentences all the time. 
"We have communication through our minds," Ale said. 
The beginning: When the typical rock band explains their origin story, it doesn't usually begin with, "It all started at summer camp." But Dany said that's what got her into playing music: At 5 years old, her parents enrolled her in a music initiation camp, and by the time she was 6, she'd taken up piano lessons. 
"And as I started growing, my dad gave me a chance to pick a new instrument," Dany said. "I chose the guitar because I love it."
Pau was just 4 years old when she started piano lessons. But she was a drummer at heart, and she soon picked up the drum sticks. And when Ale was of age, she took piano lessons too. Like her sisters, she was eventually given the opportunity to pick another instrument. After several YouTube videos of bass players on YouTube made an impression on her, Ale got a bass guitar. Suddenly, the young sisters' three-piece rock band came to life. But it was more than a fun family affair — rapidly, the band got unprecedented musical opportunities.
Their shot at stardom: About a month and a half prior to being signed, the band's mom reached out to Victoria Records owner and talent manager Victoria Morales-Kuhne the night before the Warning played at a local university. Their mom said the girls would love to meet her at the show, "since they hadn't been around a lot of female role models in this business," Morales-Kuhne said. She had seen videos of the Warning cover other bands, and she was impressed; still, she wondered if the girls could deliver original material.
"I attended the show, sat on the front row and got chills the entire time," Morales-Kuhne told Mic. "Their original music was incredible, everything I could ever hope for and more ... I knew this was one of those once-in-a-lifetime moments when you're witnessing music history and music greatness, and if you're lucky in this industry, you run into one artist like The Warning once in your lifetime."
Two weeks later, the Warning signed with Victoria Records and Morales-Kuhne became their manager. Within days, Escape the Mind hit iTunes. 
The music: Escape the Mind shows the band getting serious with their songwriting, but there's still room for growth — they're planning to go to Berklee College of Music in Boston this summer to immerse themselves in study. To get there, the Warning set up a crowdfunding campaign to raise money for tuition and expenses. Thanks to the band's viral success, they quickly raised enough money; now, any extra money they raise goes toward travel visas.
"We know that Berklee is a very good school," Dany said. "It would be really awesome to be in an environment where all the people there share the same love for music as we do. Because I mean, you cannot get the same feeling as some person that hears your music than one that actually ..."
"Actually knows what we have to go through while we're playing," Pau finished. "The people who support us, they support us really well. They support us in every way that they can. But they don't know how much hard work we have to put into it. So going to Berklee will be being around people who know how much work you have to put into it."
The girls want to be as successful as their idols: Brian May of Queen, Neil Peart of Rush and Chris Wolstenholme of Muse. But the Warning doesn't necessarily see fame as the main benefit to rock stardom.
"The best thing is that you get to play with your sisters," Ale said, hugging Dany and Pau. "They're your sisters — you love them. So it's fun to be with them."