These Revolutionary New Vibrators Are the Sex Toys We've Been Waiting for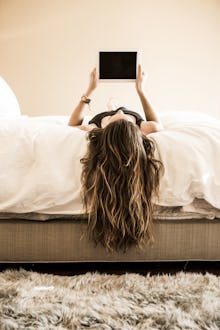 Bluetooth-connected, rechargable via USB, IOS and Android compatible and featuring a long-distance remote control?
Yep, we've entered a whole new era of sex toys.
The latest in innovation is the B. Sensory, a vibrator that's linked with erotic literature. Using Bluetooth and a reading app, the egg-shaped silicone vibrator called the "Little Bird" syncs the specific pulses of the vibrator to the words you're reading so you can literally "feel" every sexy scene.
The concept of a literary vibrator app might sound bizarre, or even downright unnecessary. But the new product represents just one of many innovative, inventive sex toys to hit the market in the past few years. 
From clitoral vibrators that address the "orgasm gap" to a "Semenette" dildo that can help couples get pregnant, these new sex toys reflect a growing embrace of the unique, quirky or unconventional sexual desires — and needs — so many people have. When it comes to our sex lives, we've never been more open and honest about making them better.
More users, more products: "Being a great fan of erotic literature, I had the desire to combine the power of words to the potential of connected devices by creating a new way of reading and having fun alone or in a couple," Christel Le Coq, founder and CEO of B.Sensory, writes of the toy, which is now being funded on Indiegogo.
The beauty is that these days, embracing the two is totally plausible. Sex toys that champion body-safe designs and innovative functionality have been taking over an industry normally crowded with cheap plastic and rubber gag gifts. 
Sex toy use has become exceptionally common: Two studies from Indiana University investigating vibrator use in 2009 found that about 52% of women and 45% of men have used a vibrator during sexual activity. Many of those users saw an increase in their sexual function, from everything from desire to arousal, lubrication and orgasm. Those benefits show in the numbers; the sex toy industry hauls in $15 billion  annually in sales. 
Having more fun with the details: As the demand and profit increases, designers are honing in on what customers really want. There are now vibrators that sync with the music you're listening to, or "wearable smart vibrators" connected to your phone.
Some of the new toys address the pleasure disparity many women face. As previously reported by Mic, the yet-to-release SmartBod vibrator is starting a conversation around female pleasure by providing shareable data tracking about orgasms and arousal and adapting to women's physiological needs.
The same tack is being taken with couples products, including the hands-free, strap-free vibrator Eva, from entrepreneurs Alexandra Fine and Janet Lieberman. The Eva is designed to provide pleasure for women during vaginal intercourse, as 70% of women need some form of clitoral stimulation in order to orgasm but often don't get it. 
Meanwhile, the Autoblow 2, an oral sex simulator, and Tenga masturbation sleeves have opened up a market for male masturbation products, a segment with few options in the past. Back in November, Lelo touted its "inclusive" Transformer vibrator, which a company rep told Mic "is not designed for a specific gender, nor is it designed for specific anatomical parts."
"There is a huge demand for vibrators that better integrate into sex," Fine told Mic. "Previous solutions, like vibrating cock rings or U-shape couples' vibrators, may help give clitoral stimulation but often introduce another element, like internal vibration or loss of blood flow to the penis."
Meeting all needs: Other modern sex toys go beyond pleasure. In 2014, sex toy designers Minna Life Kickstarted the first smart Kegel trainer, called the kGoal. The app and device was designed to track women's pelvic floor exercises while providing vibrational feedback.
"It addresses sexual health and wellness in a much more fundamental way than just providing momentary pleasure" Brian Krieger, CEO of Minna Life, told Mic in an email. "Stronger pelvic floor muscles can enhance arousal and improve sensation, orgasm quality and general sexual function."
The Semenette, a toy which raised funding on Indiegogo in March, also holds a dual functionality. The silicone squirting dildo can be used for pleasure, but it also serves the purpose of an insemination device for same-sex couples. It's one of the first devices of its kind to allow same-sex couples to conceive in the privacy of their home. Stephanie Berman, the designer of the Semenette, has also reported that the toy is popular among fetishists, dominants, the pegging community and trans people, according to the Daily Dot. 
A new, sexier conversation: All of this innovation speaks to a desire to integrate our sex toys into real-life sexual routines in order to meet our unique needs, from closing the orgasm gap to providing intimate experiences for a diverse range of couples.
"I don't think sex toy makers in the past thought, at all, about what women desired or needed," Fine said. "I also wouldn't say that any part of the industry, in the past, has been mainstream. Only recently have sex toys been discussed."
But there's no reason they shouldn't be. There's no one trick for pleasure, nor do any two people share identical physical needs. Human sexuality is far more than just a on/off switch. Shouldn't sex toys be as well?