6 Lies We Need to Stop Telling About Electronic Music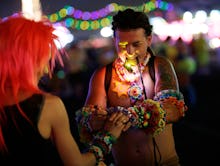 In 2015, electronic music is the devil's music. Concerned parents deride it; the mainstream media misunderstands it; major corporations have started using mock versions of it to rebrand themselves. EDM takes the blame for rampant and dangerous drug use to such an extent that cities as big as Toronto and Chicago have outright banned its concerts at certain venues. Musical purists continually insist that EDM is nothing more "button pushing."
The hysteria surrounding EDM can be seen, as Noisey points out, as a modern version of the backlash against jazz in the 20s, rock 'n' roll in the 50s or hip-hop in the 80s. Each of those genres was named a societal danger, only to eventually be accepted. Electronic music has a long and nuanced history that can't be summed as simply "dangerous" or "dumb." Even the name EDM is a blanket term that glosses over the nuances between house, drill, dubstep, trance and drum and bass, to name a few distinct subgenres. 
Electronic music is one of the most promising, unexplored frontiers for the development of future music. But lies and stereotypes keep the genre boxed in. Here are six stories we need to stop telling about EDM:
1. EDM is nothing more than a drug-addled brofest.
Contrary to popular belief, EDM can be enjoyed without MDMA, E, K or even alcohol.
"EDM parties are no different than any mass gathering," Rolling Stone's Steve Baltin told Fox News. "People overdosed at Bonnaroo (a Tennessee-based festival that showcase all types of music), someone was stabbed at the Stones in '69, and people were trampled at The Who in 79 ... There are always drugs at rock, country or hip-hop shows. I saw drunk people at a Neil Diamond show, it happens everywhere."
Yet the EDM community's image appears bound by drug use. Organizations such as Dance Safe are working to help those in the community be safe and "sensible" about their use of psychoactive substances. Artists like Kaskade and Sebastian Ingrosso have spoken against the rampant drug proliferation that is so demonized in mainstream media.
"There is so much life blooming here. I think that of course it's important to focus on the negative side because you want to fix things," Dutch producer and DJ Afrojack told MTV News. "But it's really important not to forget the positive side, the blooming life out of it."
2. It takes no talent to make.
In a 2012 Tumblr post, Deadmau5 wrote: "We all hit play. It's no secret."
The piece opened a huge rift in the EDM community, and readers who didn't read past the first few paragraphs might have thought Deadmau5 was trying to delegitimize the entire art form. But what he was actually trying to say is that DJs take themselves too seriously in the live space. "My 'skills' and other PRODUCER'S skills shine where it needs to shine: In the goddamned studio, and on the fucking releases. that's what counts," he writes in the penultimate paragraph.
Crafting electronic music is not easy. Getting synths and bass to sit together easily in the mix and programming drums to get have that right driving feel requires a tremendous amount of experimentation and knowledge. And even setting up a solid live show with those tracks takes its own set of skills. "It's not just pushing a button; it's a lifestyle. And yeah it's easy to DJ," Tiesto told Spin, adding: "It's also very easy to play the piano or play the guitar if you've been practicing that for 10 years. But I think the art of DJ'ing is still that you know when to play what records and the timing of the records and to keep people interested."
3. It's all just unst-unst-unst.
The number of subgenres that EDM wraps into a neat, digestible package is truly astounding. House and trance rely heavily on pounding eighth notes to create a backbone for the synths to work against. But other genres allow a lot more flexibility in terms of their rhythmic feels.
Chicago's footwork subgenre, produced by artists like Jlin, who recently earned Pitchfork's Best New Music award, and the late DJ Rashad, is one of the most rhythmically unpredictable and complex genres ever conceived. The blistering patterns of drum and bass and the minimalist improvisation of krautrock both subvert the endless pounding of house music. Even dubstep once enjoyed a much wider range of rhythmic feels more closely resembling reggae and dub, before it dove headfirst into formulaic brostep. Which brings us to our next lie...
4. Skrillex and Diplo are electronic music's most important figures.
Before Skrillex's grinding bass wubs and squealing synths became the industry standard, revolutionary artists like the godfather Frankie Knuckles, the endlessly experimental Aphex Twin and the infectiously danceable Fatboy Slim regularly blessed the genre with fascinating new attributes. Listening to Aphex Twin's breakout hit, "Windowlicker," or his classically informed Syro, which won 2015's Grammy for best dance/electronic album, it's hard to think that electronic music could have ever been summed up as button-pushing.
Hudson Mohawke has also continually pushed sonic boundaries. He offered his expertise to Kanye West's genre-defying Yeezus, helping to produce the beat for the album's most memorable track, "Blood on the Leaves." His latest track, "Ryderz," is just as vital. Arca, Efdemin, and Flying Lotus all released incredible genre-pushing records last year. And none of these artists show any signs of slowing.
5. It's all about the "drop."
The massive bass drops that Skrillex's brostep help popularize are in all the poppiest and flashiest incarnations of EDM. The drop is so ubiquitous, it's become a punchline for the jokes that surround pop EDM. Saturday Night Live released a digital short last year mocking the way EDM concerts tease audiences with the endlessly anticipated drop, so much so that there's hardly anything else to enjoy about the music.
Similarly, the SoundCloud channel Best Drops Ever is good for a music nerd chuckle or two:
However, Skrillex and mainstream EDM's accessible melodies and unavoidable drops have done their part in helping wider audiences find ways into the genre."I doubt there are very many people who woke up and thought I love jazz because I heard a Sun Ra record," Beatport CEO Matt Adell told NPR. "Jazz and electronic music are very similar in that they speak their own language, and you initially need an interpreter to understand that language." In this analogy, drop-heavy Skrillex and Diplo are simply America's front-line translators. "Once you understand the language, then you can explore that territory on your own," Adell said.
6. It's making instrumental ability obsolete.
If anything, the rise of EDM is doing the exact opposite.
The success of Daft Punk's 2013 Random Access Memories. The album was a monumental achievement, winning multiple Grammys, earning rave reviews and selling wonderfully — all while redefining the genre.
In an interview with Billboard, Daft Punk's Thomas Bangalter expressed his belief that EDM producers will need to draw sounds and inspiration from live instruments to keep pushing boundaries. "The problem with the way to make music today, these are turnkey systems; they come with preset banks and sounds. They're not inviting you to challenge the systems themselves, or giving you the ability to showcase your personality, individuality," Bangalter said. "We really felt that the computers are not really music instruments, and we were not able to express ourselves using a laptop. We tried, but were not successful."
Other producers, like Flying Lotus, have experimented with similar fusions to create fascinating pieces. Even Skrillex experimented in this space at last year's Bonnarroo, hosting a SuperJam with Grateful Dead's percussionist Mickey Hart, bassist Thundercat and musicians from Big Gigantic to perform a hip-hop version of the Grateful Dead's "Fire On The Mountain."
EDM and live instruments can coexist and even benefit from one another's influences. The more we're willing to approach the genre with an open mind, the more it can grow.