This Middle Schooler Is Taking a Stand and Proving 'Feminist' Is Not a Dirty Word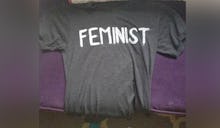 The choice to identify as a feminist in middle school is pretty remarkable. It can also inspire backlash, which one eighth-grader in Batavia, Ohio experienced firsthand.
This student, identified as "Sophie" on Women You Should Know, wore a shirt bearing the word "feminist" the day her class photo was taken. Though the shirt doesn't violate the school's dress code, it was deemed potentially controversial, joining the ranks of other previously edited offenses like rude hand gestures, local news station FOX19 NOW reported. Principal Kendra Young of Clermont Northeastern Middle School, therefore, decided that the word "feminist" should be edited from Sophie's shirt in the class photo.
Young claimed the photographer had brought it to her attention, and she "made the decision to black it out because some people might find it offensive," according to Women You Should Know. Sophie and her mother Christine both expressed outrage at the editing. 
Sophie "thinks everyone should be treated kindly and with love and that we should all have the same rights," her mother told Women You Should Know on Wednesday. She "should be allowed to express herself," her mother continued, rather than be impeded from trying raising awareness about feminism in her community, which upholds the "common misconception [that] feminism and misandry go hand and hand." 
Rather than feel discouraged, Sophie is using the opportunity to start a revolution in her own community. In the spirit of the feminist trailblazers who came before her, she has planned a protest for this Friday. On Wednesday, Young apologized to Sophie and the principal asked the student for suggestions on how to handle the situation. 
"I want everyone to realize that we need feminism," Sophie said, according to her mother. "I want you to have someone come into the school and educate everyone about feminism. I want us to go to the news station together and show the people that we are working together to make this school and our community and better place for everyone."
Though she may live in a community that doesn't fully understand her beliefs, this young woman is leading by example and pushing for education and understanding in the face of adversity.
h/t ThinkProgress