When it Comes to Hooking Up With Coworkers, Let's Do as Josh Hartnett Says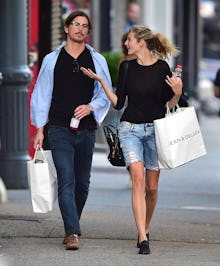 It's time we get honest about hooking up with coworkers: Not only are many of us doing it, it's actually a totally rational, logical romantic choice.
If anyone knows about dating a coworker, it's Josh Hartnett. With every new project he takes on, there seems to come a new love interest. There was "Scarlett Johansson after The Black Dahlia, Julia Stiles after O and Kirsten Dunst after The Virgin Suicides," as ET Online noted, and now Tamsin Egerton, his costar in the upcoming The Lovers. 
But his history of dating costars is no different than anyone else's attraction to a coworker, and for good reason. As Hartnett explained in a recent interview with Playboy:
"They're whom I'm attracted to because I share experiences with them and understand a bit about what they are and what they do."
As Hartnett pointed out, hooking up with a coworker makes a lot of sense. Coworkers, after all, are who we surround ourselves with. A recent survey of over 1,500 office workers by Approved Index found that an overwhelming 65% have been involved in "at least one workplace romance," while 48% had been involved in two or more. Of those relationships, 30% in the survey led to serious relationships or marriage. 
While we might not be spending our days on a set, adults spend a good hunk of their weeks — 47 hours — side by side with their coworkers. That's a lot of Gchats and longing gazes across the office. "Spending more time with colleagues outside of contracted hours means getting to know them on a more personal level is inevitable, and that's where romance can flourish," Trilby Rajna, website and content editor for Approved Index, previously told Mic. 
Someone who shares the same lifestyle (read: grilled cheese truck for lunch), professional drive and work hours with us is just more likely to get us. Justin Timberlake, who's dated industry mates Britney Spears and Jessica Biel, described the connection to Vanity Fair in 2011: "We understand what it's like. 'Oh, thank God — finally, somebody who knows how I feel.'" 
Plus, workplaces also provide an inherent incubation period for relationships to develop. As Hartnett himself put it to Elle in 2014, "When you work with somebody every day, it's like trial dating. You develop a fantasy about them."
That's a level of connection we just can't get swiping through Tinder.