Mumford & Sons Are Done Ruining Folk and Are Now Coming for Hip-Hop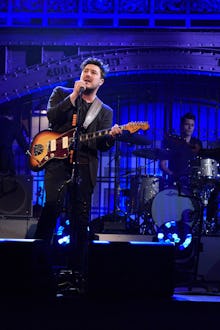 In March, the band announced that they were done with folk. Their new album would be banjo-less and full of rock 'n' roll instruments. But now it seems not even the devil's music can bring the rush Marcus Mumford is seeking.
In a quote that sounds like it came straight out of the Onion, Marcus Mumford has announced he's going hip-hop. He told NME in the magazine's latest issue that he's learning how to "chop up beats" from legendary producer 88 Keys, and that it's "really fun." 
Going back to his roots. Apparently, Marcus Mumford grew up listening to hip-hop.
"I went to that Kanye gig in London recently, and I grew up listening to Jurassic 5 and Nas," he told NME. "I've been getting into that again recently." Mumford has shared his love for Kanye West in the past: He called him the "only rock star left" in a Billboard interview published in April. "[H]e gets up and just blows them all away," he said. "Says one word and the whole room just... that's rock 'n' roll, to me." 
DJ Mumford. His comments on his new sound are a little unsettling, as they only further demolish Mumford & Sons' famous aesthetic. Their new album looks both to be totally different and far less unique (if no less formulaic) than their earlier music.
"Anyone was able to pick up a synth, or a drum machine, or electric guitar and just create," Mumford told Rolling Stone of the new album. The band described it as a "natural departure" from their previous coffee-shop-by-way-of-stadium-rock Appalachian folk. You could hear the change immediately on their first single.
Perhaps Mumford's hip-hop training will help generate the spark the band is clearly seeking. In the meantime, none of this casting about seems to bother Marcus Mumford at all. "I don't really care about how we're seen right now, because I think the story of this band will be a long one," he told NME. "People are always going to say stuff in the moment, but I hope that the arc of the band will be interesting."
The band will be hosting listening parties for their new rock record this record store day, April 18th, at select locations. And as for the Mumford beats, well, they're still in the lab.
h/t Stereogum