Japanese Airline Celebrates 'Star Wars: The Force Awakens' with a Giant R2-D2 Airplane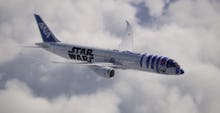 To coincide with the release of the newest Star Wars: The Force Awakens trailer on Thursday, Japanese airline All Nippon Airways announced the launch of a massive airplane painted to look like R2-D2. It's the coolest new Star Wars vehicle since the BB-8.
Scheduled to begin flights in fall 2015, the droided-up Boeing 787-9 Dreamliner is part of ANA's larger campaign, the "Star Wars Project," planned through 2020. (Though ANA's Star Wars website doesn't give much detail, the campaign will supposedly "connect Japan to the global market.")
Disney's new Star Wars: The Force Awakens (commonly known as Star Wars Episode VII) is scheduled to hit theaters this December and promises to be one of the biggest film events in years. So it makes sense everyone's favorite R2 unit will be taking to the skies in celebration.
This is what happens when Disney takes over a film franchise — it bought Lucasfilm Ltd. for $4 billion in 2012. Hopefully, it means more follow-up paint jobs to stick with the droid theme. ANA already owns 34 Dreamliners, and C-3P0 certainly deserves his own line of transcontinental luxury planes.
This isn't the first time a Japanese company has gone the adorable route with aircraft, so maybe airplanes designed like space robots isn't a shock. But it means there's one real question left on every Stars Wars fan's mind: If this iteration of R2-D2 is a giant airliner, how big would Princess Leia's hologram be?