Can You Spot Why Everyone's Furious Over Michael Bublé's Latest Photo on Instagram?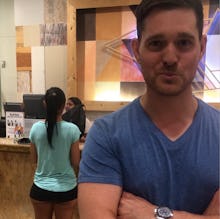 Singer Michael Bublé posted an image of himself to his Instagram account earlier this week, but one detail, and some offensive hashtags, set this particular post apart from his others. 
The photo, snapped by his wife Luisana Lopilato, also included a woman in tight shorts — a detail that clearly didn't escape Bublé. "There was something about this photo Lu took that seemed worthy of Instagram," Bublé wrote. He then hashtagged the image with the terms, "#myhumps," "#babygotback" and "#hungryshorts." 
Bublé's choice to draw such public attention to a woman's body — specifically, a single feature of her body — evoked plenty of backlash. Bublé's use of the tag "#onlyinmiami" also seems to additionally play into an age-old stereotype about Latina women's bodies.
Beyond stereotypical objectification, though, many noted that the singer's decision to share the image with his 1 million followers itself is problematic in that it violated this woman's consent. While it's unclear whether or not this individual granted Bublé permission to draw the Internet's attention to her body, the fact that she doesn't face the camera implies it's unlikely. Bublé's followers pointed this out, asking the singer whether he sought "her permission to post that?" and "Would you say what you hashtagged to her face?
Of course, some commenters joined the objectification, arguably even taking the shaming a step further by blaming the woman in question. "If you are gonna dress like that in public it's fair game," commenter Voodoo13 wrote. "Why is he the bad guy when SHE wore those shorts?" barrydrich72 echoed. 
Bublé has not yet responded to this backlash. Perhaps he will apologize and use this incident as an opportunity to educate others — especially his followers who fail to see the problem with his actions. 
Update, Friday, April 17, 4:10 p.m.: Bublé issued an apology to US Weekly for the post on Friday afternoon, acknowledging the photo was offensive. 
"I do not court controversy, but I realize that a photo that was meant to be complimentary and lighthearted has turned into a questionable issue," he said. "It hurts me deeply that anyone would think that I would disrespect women or be insulting to any human being. I regret that there are people out there who found the photo offensive. That was not and is not my intention. Women are to be celebrated, loved, respected, honored and revered. I've spent my life believing that and will continue to do so." 
h/t Fox News