Lou Reed Made Rock 'n' Roll Into a Genre for the Voiceless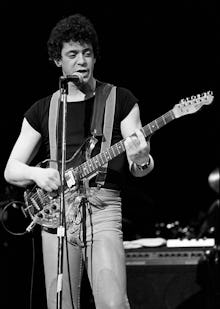 On Saturday night, a tearful Patti Smith inducted Lou Reed into the Rock and Roll Hall of Fame for the second time. "True poets must often stand alone," she said, according to Rolling Stone. "As a poet, he must be counted as a solitary artist. So, Lou, thank you for brutally and benevolently injecting your poetry into music. And for this, we welcome you, Lou Reed, into the Rock and Roll Hall of Fame."
Reed built his career singing for the voiceless and overlooked in rock 'n' roll, which, for all its self-proclaimed "subversive" tendencies, had largely ignored society's true outcasts up until Reed's debut. He changed all that. And for that and so much more, music lovers everywhere are grateful.
For the misfits. "No one ever spoke so directly for misfits and freaks," musician Matt Krefting wrote in Reed's obituary on the Huffington Post. "His music, in its genius and its flaws, in its poignancy and its awkwardness, arose from a conscious and explicit desire to give a voice to the voiceless, to express the truths of people who were always told that their truth had no value."
With a catchy chorus and unflinching poetry, Reed managed to make songs about transvestites and drug addicts into a bona fide pop hits, "Walk on the Wild Side" being his most famous. He celebrated misunderstood taboos — such as S&M on songs like "Venus in Furs" — and humanized the tragic realities of the addicted, the afflicted and the persecuted with songs like "Heroin" and "Waves of Fear."
"By simple virtue of beginning a song with what Candy or Stephanie or Lisa says, we were suddenly on empathetic, first-name-basis terms with total strangers," wrote Stuart Berman for Pitchfork, praising Reed's ability to capture the humanity of his subjects. "To paraphrase Chuck D's famous parable about hip-hop and CNN, Reed's songs were like the New York Times for misfits."
Reed reinvented himself and his sound countless times. Almost every one of Reed's unexpected stylistic shifts inspired a new genre — Charles Aaron credits him with partially creating "glam, art rock, punk, industrial, grunge, shoegaze, goth, indie rock" over at Spin.
He influenced artists across basically every genre. In an excerpt from an in-progress memoir, former Rolling Stone journalist Ed McCormack described Reed as "one of the ballsiest dudes I ever knew — the chameleon who taught Jagger, Bowie, the New York Dolls, and a whole generation of swaggering rock 'n' roll peacocks how to 'put their girl on' without sacrificing their manhood."
Reed had an especially powerful influence on David Bowie, who wrote his song "Queen Bitch" as an homage to Reed's seedy street poetry. That song essentially set the format for his later Ziggy Stardust glam, pansexual evolution, according to Spin. When the time came for Reed to launch his solo career, Bowie stepped up to produce the entire album.
There's been a lot of speculation about Reed's own sexuality over the years. He may very well be the first out rock star. Though some journalists over the years have not been entirely convinced he acted on his implied bisexual tendencies enough to serve as a "Gay Figurehead," whether or not he lived it as thoroughly as some would expect, he kept many of society's neglected voices in view at all times.
"One night, when we were touring, separately, we wound up in the same hotel, and I got a call from him, and he asked me to come to his room," Smith said, according to Rolling Stone. "He sounded a little dark, so I was a little nervous. But I went up, and the door was open, and I found him in the bathtub dressed in black. So I sat on the toilet and listened to him talk. It seemed like he talked for hours, and he talked about, well, all kinds of things. He spoke compassionately about the struggles of those who fall between genders. He spoke of pre-CBS Fender amplifiers and political corruption. But most of all, he talked about poetry."
His lyrics from 1975's "Coney Island Baby" may portray the beauty of his open-mindedness best: "Ahhh, but remember that the city is a funny place / Something like a circus or a sewer / And just remember different people have peculiar tastes." Reed turned rock into a genre that spoke for every peculiar taste under the sun, and for that he will always be a legend.