16 #LoveYourLines Photos From Women Proving Stretch Marks Are Nothing to Hide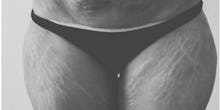 Almost anyone can get stretch marks. They're common and almost entirely harmless, but often stigmatized by onlookers looking to criticize women's bodies.
Enter #LoveYourLines, a body-positive campaign that encourages women to share photos of their stretch marks on social media to reassure others their bodies are perfectly fine. Sports Illustrated supermodel Chrissy Teigen set off the latest round of #LoveYourLines posts with a photo of herself in short shorts, with the caption "Stretchies say hi!" attached:
All this week, hundreds of Instagram users took to posting photos of their own stretch marks. Be they from aging, puberty, pregnancy, weight loss/gain or from some other cause, the message is the same: Stretch marks are totally natural, totally OK and totally beautiful, and women shouldn't have to be ashamed of their own bodies.
Here are some of the most-liked #LoveYourLines posts on Instagram.
1.
2.
3.
4.
5.
6.
7.
8.
9.
10.
11.
12.
13.
14.
15.
16.
17.
18.
For more #LoveYourLines goodness, check out the #LoveYourLines Instagram account, an anonymously founded photo project which has been doing the same thing for the past year.