Hundreds Feared Drowned After Migrant Boat Capsizes in Mediterranean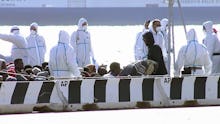 Hundreds are feared dead after a boat carrying migrants from Libya to Europe capsized in the Mediterranean Sea on Saturday night.
CNN reports that the ship, which may have had up to 700 people on board in cramped conditions, began broadcasting a distress signal on Saturday night before a rescue vessel approached. When the second ship approached, passengers on the doomed vessel rushed to one side hoping to be saved, causing a capsize.
According to the BBC, the packed ship was thought to be just 70 ft long and capsized "at midnight local time in Libyan waters south of the Italian island of Lampedusa." The BBC further reported that at least 28 survivors had been rescued, with at least 24 more confirmed dead.
Hundreds of thousands of immigrants are estimated to make the dangerous journey annually, many crammed onto unsafe boats by criminal organizations that charge a hefty price for the voyage to European waters. Just last week, an estimated 400 people died when another boat capsized near Italy. The BBC reports that the United Nations' refugee agency, UNHCR, estimates approximately 900 migrants have died in the Mediterranean between January 1 and April 15 this year. 13,500 more were rescued between April 10 and 17 alone, by the agency's count. 
The Financial Times reported that in 2014, an extensive Italian rescue operation, Mare Nostrum, shuttered due to a lack of funding — even as 3,200 of some 220,000 migrants crossing the sea into Europe that year drowned. Mare Nostrum was replaced by a European Union operation with one-third the budget. The Guardian editorial board argued that beginning an "adequate" search and rescue operation "is surely the least that can be done by a humane society," but noted that conflicts over funding between northern and southern European countries were delaying action that could save lives.
It's "genocide — nothing less than genocide, really," Malta Prime Minister Joseph Muscat told CNN. "Our troops, together with the Italian navy, are literally looking through the bodies to try to find someone who's still alive."
"Gangs of criminals are putting people on a boat, sometimes even at gunpoint," he added. "They're putting them on the road to death, really, and nothing else."