The Creator and Cast of 'The Wire' Have a Harsh Message for Rioters in Baltimore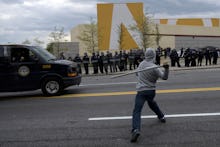 On Monday afternoon, a wave of angry citizens stormed the streets of Baltimore, Maryland, to protest the death of Freddie Gray, a 25-year-old black man whose neck was snapped while in police custody on Saturday. The protests turned ugly: Officers deployed tear gas, and both police and protesters threw rocks. By the end of the evening, seven officers were reportedly injured. Several suffered broken bones and one was "unresponsive." 
Seven years ago, The Wire, HBO's revered drama about vice, power and corruption in Baltimore, ended its five-season run. Since then, creator David Simon — who previously worked as a journalist for the Baltimore Sun and shadowed the Baltimore Police Department's homicide unit — has become something of a de facto spokesperson for Baltimore crime.
Simon defended violence in Sanford, Florida. In 2013, in response to the killing of Trayvon Martin, Simon wrote, "If I were a person of color in Florida, I would pick up a brick and start walking toward that courthouse in Sanford. Those that do not, those that hold the pain and betrayal inside and somehow manage to resist violence — these citizens are testament to a stoic tolerance that is more than the rest of us deserve. I confess, their patience and patriotism is well beyond my own."
Responding to Monday's events in Baltimore, however, Simon took a different approach.
"The anger and the selfishness and the brutality of those claiming the right to violence in Freddie Gray's name needs to cease," he wrote on his blog, DavidSimon.com. "There was real power and potential in the peaceful protests that spoke in Mr. Gray's name initially, and there was real unity at his homegoing today. But this, now, in the streets, is an affront to that man's memory and a [diminution] of the absolute moral lesson that underlies his unnecessary death."
He made his message to rioters clear: "If you can't seek redress and demand reform without a brick in your hand, you risk losing this moment for all of us in Baltimore. Turn around. Go home. Please."
CNN later reported that it was a "very small community" responsible for looting stores near the protests.
Actor Wendell Pierce, who played detective Bunk Moreland on The Wire, made a similar point on Twitter. He lauded members of the Nation of Islam for attempting to "restore calm" alongside police.
Another actor from the Wire cast, Andre Royo, who played the recovering addict Bubbles, made the same plea. "Discipline not Destruction," he wrote. "You shouldn't have to hurt nobody to be somebody!"
David Simon is normally outspoken during social unrest. He wrote lengthy diatribes in response to police brutality in Ferguson, Missouri. His defense of the Trayvon Marton protests defended rioters' reactionary instincts. But this 176-word blurb sounded like a lot of nothing. 
"There's a lot to be argued," he wrote. "Changes are necessary and voices need to be heard."
His words have not been immune to criticism. In response to one comment that "'systemic racism' is bullshit," Simon snapped back, condeming the Baltimore Police Department.
Another reader criticized his plea for calm, arguing: 
I finally have bookmarked 180 articles related to either death in custody, brutality, etc. Pretty soon, I was angry as these teens. I can control myself as a middle-aged white woman. I'm not sure I could if I were a systemically oppressed, poverty-stricken teenager. Your appeals will fall on deaf ears.
"Now is the time for mass disobedience, even for mass arrest," Simon responded. "There is plenty to be outraged about. But a riot is a riot. And running out of a liquor store with a case or two doesn't seem to prove much to anyone — other than affirm the need for a militarized police culture to those desperate to believe in such." In another comment, he added, "A few more days of that on the national news and Freddie Gray, who died for no good reason, will in death stand for nothing."