A Missouri Police Force Had the Worst Response When the City Elected a Black Female Mayor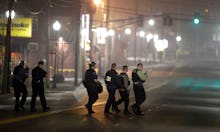 The city of Parma, Missouri, has seen mass resignations among the local police force after the city's first black female mayor, Tyrus Byrd, was sworn in on Tuesday.
Five of the force's six officers handed in their resignations to the outgoing mayor, Randall Ramsey, who said the police gave no prior notice of the coordinated action. They were joined by the city attorney, clerk and water treatment supervisor, all of whom departed citing "safety concerns," KFVS12 reported.
In an interview on KFVS12, Byrd declined to specifically address the situation, but said the issue would be discussed once she had time to meet with the city council. "We'll try to get things in order for the city," she said.
Parma residents appeared to take the news in stride, with local reports indicating many felt completely safe and believed having six police officers was unnecessary anyway for such a small city. 
The dramatic resignations come amid a shifting landscape in Missouri policing and politics. After a white police officer killed Michael Brown, an unarmed black teen in Ferguson, Missouri, a federal Justice Department report found systemic and widespread racism within local law enforcement there. In the city's first major election since the tragedy, voters sent two black representatives to the six-person council for the first time. 
While there have been no high profile racially motivated incidents in Parma in recent times, the very public show of no confidence by local officials raises troubling questions. Specifically, how many of the problems identified in Ferguson, just a three-hour drive from Parma, might be present among other local police departments in Missouri and around the country.
From the first black city council member of Ferguson to the United States' first black president, American politics have become more diverse. The electoral situation in many places is increasingly at odds with local police forces, which remain stubbornly unrepresentative of the communities they serve. A New York Times investigation found that among hundreds of departments around the U.S., the number of white officers was more than 30% higher than the local population. 
That's a statistic Byrd should make a priority of bringing down as she begins the process of rebuilding Parma's police.