Meryl Streep Is Changing the Game for Women in Hollywood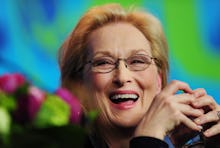 The discussion around women in Hollywood usually focuses on who appears on-screen, and ignoring the women who work off-camera makes their underrepresentation in the industry difficult to address. But one of the most powerful women in the business is trying to change that.   
Meryl Streep — an active champion of women's causes — has announced that she will help fund a screenwriting lab for women writers over 40 in partnership with New York Women in Film and Television, female members of the creative network IRIS Film Collective and a handful of acclaimed female filmmakers, according to Vanity Fair. The goal is bring in more diverse writers, which would likely lead to a wider range of female roles on screen. 
Who is underrepresented? Plenty of reports demonstrate how necessary these efforts are. This year, women, minority and older TV writers were hired on fewer TV shows than the previous hiring season, according to the Writers Guild of America's most recent diversity report. Women composed 29% of employed TV writers during the 2013-14 television season, which was actually a decline from the high of 30.5% from the 2011-12 season. Female film writers fared even worse: According to the 2014 Women's Media Center report, one study found that only 10% of screenwriters from the top 250 domestically made films in 2013 were female.
Shutting women out behind the scenes clearly affects on-screen representation. Substantive roles for women over 40 barely exist — and when they do, they're often stale stereotypes. "The problem happens when writers and producers don't see women as being sexual after 40 — by sexual I mean complex human beings who are attractive and appealing, vital and powerful, in their 40s and 50s and beyond," director and casting director Risa Bramon Garcia told the Huffington Post in 2013.
Even Streep, an Oscar winner, has experienced this. The actress told the Telegraph, for example, she was offered roles as a witch in three separate movies once she turned 40. Although she eventually played one this past year in Into the Woods, Streep turned down these offers at the time because, "I just had a political sort of reaction against the concept of old women being demonized and age being this horrifying, scary thing."
At a 2012 industry awards ceremony, Streep paraphrased author Alice Walker while speaking about the underrepresentation of women in Hollywood. "The most common way people give up their power is by thinking that they don't have any," Streep said. Three years later, it's clear she has taken this sentiment to heart and, thankfully, is spreading her own power to other women deserving of it.
h/t Vanity Fair