Stoners Rejoice! McDonald's Is Making Your All-Day Breakfast Dreams Come True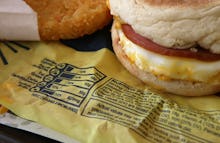 California potheads can celebrate today with a quest worthy of Harold and Kumar: getting an Egg McMuffin after 10:30 a.m.
In what is perhaps a not-too-subtle nod to the infamous stoner holiday, McDonald's will begin serving breakfast all day on 4/20. According to the Burger Business blog, the rollout of the new all-day breakfast menu is restricted to participating stores in San Diego and will include nine of the chain's most iconic breakfast options. 
The blog reported that the "iconic Egg McMuffin is there, of course, along with Sausage McMuffin with Egg, Sausage Burrito, Sausage McMuffin, Hash Browns, Hotcakes, Hotcakes and Sausage, Fruit & Maple Oatmeal and Fruit 'N' Yogurt Parfait."
The San Diego County McDonald's also posted this slightly ominous video on YouTube with the announcement:
The timing of the launch on 4/20 is almost certainly not a coincidence, given that fast-food companies have a long and storied history of marketing directly to stoners.
"If you're targeting that heavy fast food user you need to speak their language," brand consultant Denise Yohn told the Fix in 2012. "One way to do that is to talk about partying and munchies. To the mainstream audience it may just sound like late nights and drinking, but to a certain audience they're talking about getting stoned."
Fellow fast-food brands like Carl's Jr. have played to the marijuana-using crowd for years:
Cooking breakfast all day is, however, apparently somewhat of a headache for McDonald's staff, explaining why the menu change is limited to just one city. Company spokesman J.M. Owens tells Burger Business, "We only have so much toaster space and so much grill space. Unlike a lot of breakfast [quick service restaurants], we still cook our product on a grill. Many of the pretenders are doing a ton of prep in microwaves."
"For instance, go into a Dunkin' Donuts or a Starbucks, who are chasing breakfast, and you don't find a grill or oven or fryer," he added. "We prefer to be a restaurant rather than processing everything through a microwave."
Given the Golden Arches' well-documented business troubles recently (such as plummeting sales), maybe an infusion of hungry stoners looking for Egg McMuffins is just what the doctor ordered — right alongside the medical marijuana.