George Lucas Is Using His 'Star Wars' Billions to Build Affordable Housing in California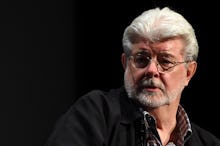 With a reported net worth of $5 billion, it's safe to say George Lucas has cash to burn. Luckily for some residents of Marin County, California, the Star Wars mastermind is putting his wealth to good use. 
Lucas has put forth plans to build a 224-unit affordable housing complex at Grady Ranch, the Contra Costa Times reports, which once served as the proposed site for Lucas' third digital studio. The plan has been in the works since 2012, but opposition from wealthy Marin County residents had stalled its progress. 
Now, rather than rely on outside sources, Lucas has announced he will finance the entire project himself — a stick-your-tongue-out gesture that will certainly gall those same wealthy residents.
According to the Contra Costa Times, the complex will house senior citizens and local workers and will include "a community center and pool, terraced gardens, an orchard and 'micro farm' and a barn." To be allowed to live there, workers will need to make less than 80% of Marin County's median income; seniors will sit somewhere between 30% to 60%. (Median income for the area is $90,839, according to the U.S. Census Bureau.)
The backstory: In 2009, Lucas proposed using Grady Ranch as the location for his third digital studio, joining Skywalker Ranch and Big Rock Ranch, also in Marin County. The plan was initially popular, but it ran into problems after residents argued it would "pose a serious and alarming threat to the nature of our valley and our community," the New York Times reported at the time. 
Sensing the community's opposition, Lucas canned the plan, noting he didn't want the venture to be seen as "an evil empire." Instead, he submitted plans for an affordable housing complex. 
"George, being the great guy that he is, doesn't want to build more housing for rich people since Marin is loaded with them," Tom Forster, then the head of community relations at Lucasfilm, told the New York Times.
Except that didn't go over so well, either. Marin County is one of the richest parts of the country, and its residents apparently didn't want their pristine oasis to become poisoned by the not-so-wealthy.
"It's inciting class warfare," Carolyn Lenert, head of the North San Rafael Coalition of Residents, told the New York Times in 2012. Carl Fricke, a Marin County resident who opposed the original studio plans, told the New York Times that he and others saw strong backlash from those who didn't support the affordable housing complex. "We got letters saying, 'You guys are going to get what you deserve. You're going to bring drug dealers, all this crime and lowlife in here,'" he said.
The project lost key funding in 2013, the Washington Post reported, but now, with the help of Lucas's personal funds, it could be completed by 2019. 
While not everyone is pleased — Marin County Supervisor Damon Connolly told the Contra Costa Times he worries the affordable housing complex "can literally and figuratively change the landscape in Marinwood and Lucas Valley" — the uproar doesn't reflect particularly well upon those individuals. 
"Class warfare" this is not, especially when a family of four earning $88,500 annually is considered "low-income." 
Bravo, George Lucas. The world could use more people using their wealth like this.