Watch 500 Years of NYC's Skyline in the World Trade Center Time-Traveling Elevators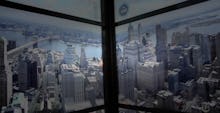 Next month, in a 47-second time-lapse video projected on a screen-wrapped cab, passengers of the new 1 World Trade Center's observatory elevators will be able to see New York come of age, from a grassy patch on the ocean to the colossal metropolis it is today.
The elevator walls, designed by Legends Hospitality, comprise nine 75-inch hi-def screens set back a couple inches from windows, to make it seem like a glassed-in elevator looking out on the landscape below. The ride to the 102nd-floor observatory begins in the year 1500, when the skyscraper's site is still 55 feet under the earth.
There's a brief period of lush waterfront stillness, and then come the Europeans. From windmills to colonial steeples, the video races along with the elevator's 23-mile-an-hour ascent, through the 1700s, the 1800s, the Post Office in City Hall Park, the Astor House hotel and a gauntlet of the city's most iconic architecture, coming and going as time takes its toll.
Eventually, 2 World Trade Center, the south tower attacked on Sept. 11, 2001, rises along with history — until four seconds later, when it fades from the screens.
David W. Checketts, chairman and chief executive of Legends Hospitality, told the New York Times there was no way around the four sobering seconds of the World Trade Center's south tower on screen. It shouldn't be skipped over anyway.
"The event is certainly a key part of history," he told the New York Times. "We did not think you could ignore it. Having it appear in the year it did and disappear in the year it did was the respectful way of addressing the fact that it was part of the landscape."
Before finally arriving at the observatory deck 1,268 feet up, the scaffolding and mammoth steel skeleton of 1 World Trade Center assemble and knit together around the car, signifying the new center's construction and completion, before finally ending in a video version of what's probably on the other side of the screens: an elevator shaft with the blocky-lettered floor number, 102.
Tickets to the observatory are $32. But for a glimpse into the history of New York, and the country itself, it's worth it.