Kanye Proved the Haters Wrong With This Coachella Surprise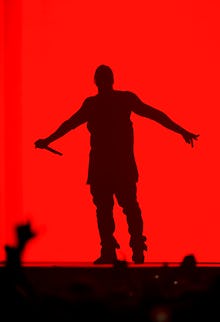 Nearly 134,000 people think that Kanye West shouldn't be allowed to headline at the U.K.'s famed Glastonbury Festival. They've been petitioning to cut him from the bill and replace him with a "rock band." 
It's been said before, and it deserves to be said again: Kanye is one of the only true rock stars left. No one else has the same contentious, revolutionary aura, and no one commands the same explosive energy at their shows. He proved his rock star status again this past weekend in a surprise mini-set during the Weeknd's Saturday night set at Coachella. And he showed all the people who think he shouldn't be at Glastonbury just how wrong they are.
It was perhaps the biggest surprise performance of the entire festival. The previous weekend, Rage Against the Machine's Zack de la Rocha performed with Run the Jewels and Madonna made out with Drake during his song "Madonna." But neither was quite as magnificent as Kanye's moment on stage. 
He came out to a slowed-down version of his Graduation hit "Can't Tell Me Nothing" before running through some of his more recent records, including "Black Skinhead" off Yeezus, "Don't Like (Remix)" off Cruel Summer and "All Day" off his forthcoming So Help Me God. Through his whole set, he absolutely killed it, and the audience loved it.
Haters have been slow to admit it, but Kanye belongs on the music festival circuit. He's had some hiccups over the years, including a couple of cripplingly disorganized sets at Bonnaroo. But Emily Eavis, Glastonbury co-organizer and daughter of festival founder Michael Eavis, responded brilliantly in the Guardian to the petition.
"Ultimately, there is no question in my mind that we have got one of the greatest artists of his generation headlining, and we have no regrets at all about booking him," she writes. "As the late, great Glastonbury regular Lou Reed said about Kanye, 'The guy really, really, really is talented. He's really trying to raise the bar. No one's near doing what he's doing, it's not even on the same planet.'"
This electrifying Coachella performance should quell the last few doubts any festivalgoer has about whether or not Kanye will blow minds. The audience (including the Weeknd) could barely keep up with his energy. It's time we all own up to the fact that Kanye West is a rock god.