A Powerful Documentary Charts One Man's Journey to Save His Estranged Father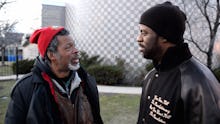 Che Smith never knew what having a dad was like. Smith, better known as Grammy-winning writer/performer Rhymefest, saw his father walk out on him and his mother when he was very young. The pair lost contact, and Smith long believed his father was dead. This, unfortunately, is a familiar story. 
Children raised without their fathers account for 63% of youth suicides, 90% of homeless and runaway children and 71% of high school dropouts. It is a destructive cycle, one which very few get the opportunity to escape.
Luckily for Smith, he made it out of his situation. He went on to co-write Kanye West's "Jesus Walks" and the Oscar-winning "Glory" from Selma. Now, he's starring in the documentary In My Father's House, a powerful work about a man searching for his father, and what happens when what you find is more than you were prepared for. The film, directed by Annie Sundberg and Ricki Stern, is currently playing at Tribeca Film Festival.
Smith began the search after he moved into his father's childhood home in Chicago. Feeling some powerful energy in the home, Smith felt compelled to try to find him. Since the pursuit was going to be such a major part of his life, Smith began documenting it on video.
"I read something that said, 'Anyone who has a life worth living should write about it,'" Smith said in an interview with Mic. "But we live in the future. You can do more than write about it. In 2015, you can film it and edit it."
He started shooting his own footage on an iPhone and iPad, but quickly teamed up with Stern and Sundberg to make the project much bigger.
In My Father's House shows Smith finding his father quite quickly, but that's just the beginning of the journey. Smith's father, Brian, had been homeless and living on the street. Though Brian is incredibly charming and clearly over the moon to see his son, he's also an alcoholic who has to start his life over. What was initially just an exploration of personal curiosity becomes so much more.
"There were some things missing in me," Smith explained. "The initial goal was to use my father to complete myself. ... What happened was that I loved him."
Love wasn't enough to cure Brian, though. "I was deluding myself until I realized, oh, I'm dealing with somebody with a disease. I gotta deal with that disease," Smith said. "It came with a price."
Smith, his wife and his father all paid a part of that price, through an incredible amount of effort. In addition to setting Brian on the path to recovery, the team also had to help him secure a job and a stable living situation. They journey depicted in In My Father's House is an incredibly emotional one, but also an honest one.
In the film, Smith's wife, Donnie, talks about wanting to live her life as an open book — avoiding keeping things secret. As a result, the film goes into unflinching detail about the family, from Donnie's fertility issues to Smith doubting the paternity of one of his children. For some, it might be too close for comfort. For Smith, it's merely a part of who he is.
"I'm an artist. I live my art," he said. "Anything's bound to happen, and I'm up for it all. In life, all you've got is moments."
"I was deluding myself until I realized, oh, I'm dealing with somebody with a disease. I gotta deal with that disease," Smith said. "It came with a price."
In My Father's House is an impressive film, both in craft and in emotional impact. A huge part of that is owed to Smith's honest, genuine presence, which is just as present in real life as it is on-screen. A story about a son searching for his deadbeat dad might sound tough. At times, it is. But it is also packed with positive vibes and hilarious, heartwarming characters. Those who doubt that should take a page from Smith, who said he's done living with snap decisions.
"People make judgments about people's lives from Act 1. They don't often see Act 5," he said after seeing the film in full. "My takeaway from watching the whole thing is that I don't want to judge people anymore based on one act."
Learn more about In My Father's House on the film's website.