John Oliver and Martin Sheen Just Made the Perfect Doomsday Video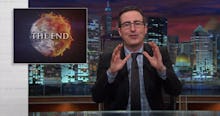 A few months ago, Jalopnik blogger Michael Ballaban obtained a copy of CNN's fabled "doomsday video," a clip commissioned by network founder Ted Turner for CNN staff to play during the apocalypse. It was altogether rather disappointing, basically consisting entirely of a military band playing a hymn.
Thankfully, John Oliver and the crew of Last Week Tonight put together an altogether far superior and much more upbeat doomsday reel, complete with special celebrity guest Martin Sheen. Whether it be from "war, disease or a genetically modified dinosaur, our world is now only moments away from total annihilation," Sheen tells us, and goes on to say we should be proud of ourselves as he launches into a mostly unflattering review of humanity's greatest "achievements":
It's got the perfect intro:
It's hard to understate how much better Oliver's version is, especially humanity's last-minute "blooper reel."
Some of our most amazing accomplishments are on display:
Finally the perfect ending:
Oliver's version even features a meaningless, drawn-out segment dedicated entirely to a cute video of a saloon populated entirely by cats. Oliver sure has humanity's number.
Coincidentally, fellow funnyman and outbound Daily Show host Jon Stewart recently offered up his own insights about which network he wouldn't watch during the apocalypse in a recent interview with the Guardian. 
"Umm. All right, let's say that it's a nuclear winter, and I have been wandering, and there appears to be a flickering light through what appears to be a radioactive cloud, and I think that light might be a food source that could help my family," Stewart said. "I might glance at it for a moment until I realize, that's Fox News, and then I shut it off."