These Palestinian Rappers Are Tearing Down Sexism in the Best Way Possible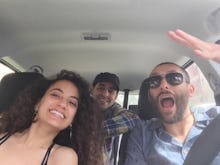 "I am the dishes, the ironing, I am everything, I am nothing. But remind me: Who are you?"
Translated from Levantine Arabic, these words are the hook of the hard-hitting new feminist anthem "Who You Are" by the famed Palestinian rap group DAM. Directed by Oscar nominee Scandar Copti, the song's video tackles sexist attitudes in the Middle East. It turns the stereotype of a woman's family-oriented roles on its head by having the men and women switch roles. The result is a brilliant, scathing look at the gender discrimination that takes place not only in Arab society but across all cultures.
"Men try to stereotype women all the time, and I just want to ask which stereotypes define men, if any," singer Maysa Daw told the Hebrew-language news site Local Call, as reported by +972. 
"The role-changing can really make people think twice about what the lyrics are all about," she told AJ+, Al-Jazeera's digital news outlet.
The video marks Daw's debut with the group, which was previously an all-male trio. It was released almost month ago and promoted in partnership with the United Nations Population Fund, which is dedicated to changing sexist attitudes in the Middle East and to improving reproductive health for women around the world.
DAM's video is starting to pick up some serious traction, especially with its social media campaign #Who_You_R, challenging fans to send videos of them challenging traditional gender roles. So far, it's been an empowering success:
"We speak out against our own oppressive society, of course, but I believe it is just as important to criticize the hypocritical part of our society, which likes to play 'make-believe feminism' from time to time," Tamer Nafar, the group's co-founder, told +972.
Much of DAM's discography, which they've been building since 1998, focuses on resisting the Israeli occupation of Palestinian territory. Their first big hit asked "Who's the Terrorist?" and ran through a litany of the violence and humiliation Palestinians have suffered. The group feels its relatively recent focus on sexism and issues within Palestinian society — which they also dealt with extensively on their most recent full-length, Dabke on the Moon — is a natural extension of the group's founding political aims.
"If we want to be honest with ourselves as artists, we need to target taboos in our own society," Mahmood Jrere, another co-founder of DAM, told Al-Monitor in an April 2013 interview. "They want us to focus on the occupation, but the political and social struggle should go together and not be separated."
Their most recent video will resonate far beyond Palestine's borders. Every culture will benefit from the group's honest look at sexism. DAM intends to tear down the wall separating genders brick by brick — and they're gaining the traction they need to show just how connected social, political and religious forces are in the global problem of sexism.
h/t AJ+
Correction: April 25, 2015