Intense Video Shows Massive Explosion in Yemen from Saudi Airstrikes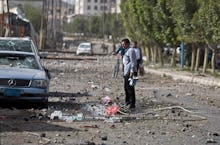 On Monday, a Saudi airstrike targeted a Houthi rebel weapons stockpile in the outskirts of Yemen's capital Sanaa, resulting in a prodigious explosion and at least 25 casualties, with nearly 400 wounded.
This dramatic footage catches the moment the missile was dropped and the ensuing mushroom cloud:
The site of the explosion is in the mountainous areas around Sanaa, which have reportedly been targeted  because they are believed to house the rebels' Scud missiles.
Many Sanaa locals felt the impact in their homes as it shook the city. 
"The door was shut by the blast and I couldn't open it due to the pressure difference," Ammar Al-Aulaqi, a nearby resident, told Mashable. "Then I started hearing the people screaming all around. I saw women not wearing hijabs, which is not common in Yemen, running out with their babies trying to get a ride out."
Yemenis, NGOs and journalists took to Twitter to share the devastation. 
Yemen Post Editor-in-Chief Hakim al-Masmari spoke with Al-Jazeera about the blast and described it as the worst of the Saudi airstrikes.
"This was by far the strongest explosion witnessed in Sanaa so far," al-Masmari said. "Hundreds, if not thousands of homes have been damaged, sending thousands of people to flee the area."
Why is this happening? Iran-backed, Shiite Houthi rebels captured the capital in September and have been fighting to maintain control of large portions of the country, plunging Yemen into a civil war. Their advances in the strategic city of Aden caused Yemeni President Abed Rabbo Mansour Hadi to flee the country. 
After Hadi fled, Saudi Arabia initiated and is now leading a multinational coalition to fight the rebels via airstrikes, essentially transforming Yemen into the battleground for a war between Sunni Saudi Arabia and Shiite Iran. 
The U.S. has gotten involved in a peripheral way, offering intelligence support to the Saudi-led coalition, which serves to strengthen the operation and perhaps makes it more likely the international coalition will prevail. But the Houthi rebels have been tenacious and won't give up easily, so Yemen's future looks unstable at best.