Alabama Shakes Just Reinvented the Blues for the 21st Century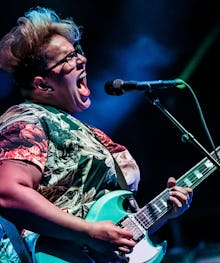 Alabama Shakes took music by storm when they dropped their debut LP Boys & Girls in April 2012. Songs like sleeper-hit "Hold On" were shockingly straightforward and unapologetic blues that felt at once timeless and new. Publications like the Independent hailed the album as "the kind of natural songwriting that seems to contain the entire history of Southern music within its staves."
Three years later, Alabama Shakes have returned to shock the music world again. The band easily could have been a one-album wonder, but now they deserve to be considered in a whole new category. Their new album, Sound & Color, is still blues at its core, in the expert hands of Alabama Shakes, the blues sounds as vital and progressive as it did in the days of early psychedelic blues experimenters like Cream and Jimi Hendrix. They've done something truly extraordinary.
The band never intended to record a Boys & Girls, Part Two, Brittany Howard, the band's lead singer and guitarist, claims.
"We took our time to write this record, and I'm really glad we did," she said to ATO Records. "We were able to sit down and think about what's exciting to us, explore all the things we wanted to on our first album. This record is full of genre-bending songs — it's even harder now when people ask, 'What kind of band are you?' I have no clue."
The band can try radically new things instrumentally because Howard's voice is the beating heart of the group. Throughout the whole record, her singing is unbelievable. It was always the band's touchstone, but she's only gained more control, bending from a soulful belt to a crisp falsetto. Her newfound flexibility sets the tone for the record. The only real criticism you could level at the band's first record is that they played it safe. Nothing could be further from the truth on the new record.
"These songs are not simple," Howard told ATO Records. "They're intricate, like a spider web or a tapestry. Our drummer, Steve, has put in a lot of work, gotten so much better — we all have. ... I feel like I'm capable of anything."
As Howard told Uncut, she drew inspiration from the '70s: Funkadelic, R&B composer David Axelrod and the blaxploitation soul of Curtis Mayfield. Stretching out even further, she said, "I've been getting into soundtracks, like old spaghetti Westerns. There's some punk tracks on the record I'm very excited about."
"The Greatest," for example, channels the lo-fi indie sound of bands like the Strokes, with a treble-heavy punk drive reminiscent of Iggy Pop's "Raw Power." The track "Future People" is similarly heavy, featuring a grinding, fuzzed-out bass line in the style of an A-Track or Hudson Mohawke record, mixed under a tangle of operatic vocal lines. If the blues were created in the 21st century, this is surely what it would sound like.
Alabama Shakes sound like a million bands in one on Sound & Color, and none of them sound safe or formulaic in the slightest. Paradoxically, it's that very abandon that will likely bolster their fame.
"We didn't want to put something out just because somebody else might approve of it or to follow a pattern because the first album was successful," Howard told the New York Times. 
She claimed she doesn't care if the band gets "another chart-topping hit" out of Sound & Color's experimental strides. If the band's album totally flops and they have to go back to playing barrooms in Alabama, "I'd write probably even better songs," she said to the New York Times, "'cause then I could write about how I had everything and lost it."
That would make for some solid lyrical material, but listening to Sound & Color, it doesn't look like failure is in the cards for Alabama Shakes. They'll be hitting the festival circuit hard this summer, taking their new sounds and colors with them. Their future and the future of American blues are brighter than they've been in years.