Here's What Ally McBeal Would Have Thought About Tinder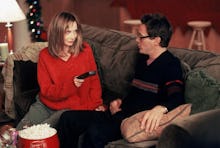 Just last week, the 2015 TV Land Awards honored David E. Kelley's bygone primetime treasure Ally McBeal with the network's Groundbreaking Award. The recognition is well-deserved: With its depictions of sex, love and the ever-confounding intertwining of the two, the Fox series captured our culture's most provocative conversations in a frank, quirky way rarely seen on network TV.
Those conversations — do we ever tire of sex and relationship drama? — haven't stopped, but the environment in which we have them has definitely changed. As Margaret Lyons wrote in a Vulture retrospective, "Ally McBeal is a show about sex, and Ally McBeal is a character who's obsessed with romantic love. In its era, the show was a direct response to a post-Clinton crisis of pop sexuality."
Today? Well, a look through McBeal's charmingly self-absorbed eyes make it just how clear dating and sex has changed — for the better. After all, Ally's endless list of deal-breakers included everything from a man's weight and religious beliefs to penis size to whether or not a man could eat a salad without getting dressing on his chin. This is a woman who would have benefited tremendously from the invention of the Left Swipe.
Allow Ally to renew your appreciation for the world in which we date and mate today:
She would be able to Internet-stalk the sh*t out of her dates.
By today's standards, all first dates in 1997, the year Ally McBeal premiered, were blind ones — something Ally learned in Season 2 when a gawky suitor of hers (played by Rob Schneider) addressed her as "Ally-son Mac-Beal" and awkwardly serenaded her with "Puppy Love" at a sketchy karaoke bar. Back then, the pre-date Facebook sleuthing that 38% of men and 48% of women now openly admit to doing, was not an option. If it were, Ally would have taken one look at that dude's timeline, said, "Ugh, his nickname is 'Fitzy?'" and spent the night at home doing something productive (or, you know, fantasizing about Al Green) instead.
She would have an easier time accepting that being single is OK.
Ally always found herself struggling between extreme loneliness and extreme pickiness, chasing after men who didn't want her but refusing to settle for anyone who failed to meet her Disney prince-esque standards. She was the original Speak Now-era Taylor Swift: vocally codependent and preprogrammed to associate coupledom with happiness. Fortunately, times have changed. Being single is increasingly the norm, and more women are outspokenly embracing the benefits of independent living. Plus, when feeling powerless in her pursuit for a husband, she could focus her energy on alternative paths to family — say, freezing her eggs?
And so is going to therapy.
Like many of us, Ally was an insecure mess; unlike many of us, she also suffered from hallucinations of a translucent dancing baby. And yet it took months for her endearingly peculiar coworker John Cage to cajole her into seeing a therapist for her relationship neuroses. The good news for today's daters: The stigma behind Ally's reticence is lessening every day with help from researchers, public figures and celebrities alike. Just last week, Dax Shepard and Kristen Bell happily opened up about their couples therapy in Good Housekeeping. 
Her ex-boyfriend tracking skills would be on point.
Don't pretend you don't do it. A Match.com survey published in February indicates that 49% of men and 59% of women have no interest in unfriending their past flames. For Ally, it could have even prevented her from ending up at the same law firm as ultimate One-That-Got-Away Billy Thomas, which essentially destroyed her self-esteem for the better part of three seasons.
She'd be the feminist she always wanted to be.
Gender inequality was a frequent subject on Ally, but the discussion was often undermined by her relentless husband search. (Who can forget her line, "There are more women than men. If they wanted, they could change it. I plan to change it. I just want to get married first!") The series wasn't quite the "death of feminism" that Time declared it in 1998, but there's no denying it struggled to pass the Bechdel test.
Thankfully, pop culture is experiencing an especially strong push for liberated womanhood in America (oh hey there, Beyoncé), which in turn makes it easier to avoid those Billy Thomas-types and engage with men who take a more Joseph Gordon-Levitt-esque approach to gender relations. Ally would have an easier time calling herself a feminist if her boyfriend was a self-declared one, too.
She could embrace online dating — yes, even Tinder — without shame.
In the late '90s, online dating was presumably reserved for those on the fringes (and Tom Hanks and Meg Ryan); the subject was so non-mainstream that it only came up on the show once. But the online dating stigma has all but disappeared with our generation; a recent Pew survey found that 1 in 10 Americans have tried online dating, and 23% of online daters have married or dated long-term someone they met online — a stat that surely would have sent Ally sprinting to the nearest IBM Thinkpad.
Dating today can seem pretty bleak, what with the black hole that is Tinder and the sketchy, even threatening, nature of online connections. But considering all the hurdles Ally had to deal with in the late '90s, we're optimistic about the progress. We can only hope we'll be having the same conversation about Hannah Horvath in 13 years.