Here's the Absurd Advice 70s Cosmo Gave Women to Land a Man With Sex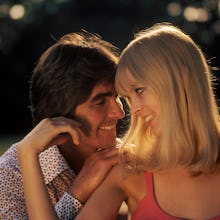 How does one prepare for sex? If you're a woman, it should probably involve buying yourself a "sex wardrobe," leaving subtle teasers around the house (bra in the couch cushions, anyone?) and for heaven's sake, doing something about those pale nipples. 
That's the takeaway from Laura Cunningham's "Chasing a Man (Without Letting Him Know It)," from the May 1971 issue of Cosmopolitan. 
The magazine published the gem, which Mic accessed via public archives at the New York Public Library, in light of a so-called man shortage in which single American women were far outnumbering the men. Second-wave feminism might have been in full swing at the time, but women needed to be strategic in their pursuit of men, Cosmopolitan advised — which meant using "the secret weapon" that is "your body ... to numb his sense of self-preservation." Of course! 
As such, the article concluded its man-chasing recommendations with a step-by-step guide to getting your body up to snuff before sex. Because you must be prepared: "During the first weeks of sleeping with him, you should spend more time fixing yourself before going to bed than before a big evening out."
From 1971 Cosmopolitan:
Exhausted just reading? Let's celebrate that our world's gotten quite a bit more progressive. 2015's major pre-sex concerns are neither silky skin nor body makeup, but issues of consent, pleasure and how to enjoy ourselves as much as possible — without spending hours preparing.