John Stamos Announces 'Fuller House' Is Coming to Netflix for 13 Episodes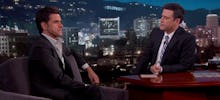 "Alright, I'm going to give you the exclusive."
That exclusive came from Uncle Jesse Katsopolis (John Stamos) on Monday night's Jimmy Kimmel Live! as he broke the news that the upcoming season of Full House will be a 13-episode run on Netflix entitled Fuller House.
Stamos said the Netflix run will start with a one-hour reunion and then gradually morph into a more straightforward spinoff in which DJ Tanner (Candace Cameron Bure) is now the owner of the famous San Francisco house as she, a recent widow and veterinarian, cares for her two children and expects a third. DJ's younger sister/aspiring musician Stephanie (Jodie Sweetin) and former neighbor Kimmy Gibbler (Andrea Barber) will be moving in to help her run their hectic lives.
Most of the original cast is expected to return for the show, though negotiations are still ongoing. Some of the bigger names such as Bob Saget, Dave Coulier and Lori Loughlin could be difficult to lock down, but Stamos, who will also serve as executive producer, will be in the cast, and plans for Mary-Kate and Ashley Olsen are already underway.
"As big fans of the original Full House, we are thrilled to be able to introduce Fuller House's new narrative to existing fans worldwide, who grew up on the original, as well as a new generation of global viewers that have grown up with the Tanners in syndication," said Cindy Holland, vice president of original content for Netflix, reports Entertainment Tonight.
Last year, Stamos hinted at the possibility of a reunion according to Entertainment Tonight, saying, "Lately there's one that we sort of are gravitating towards. It's not a complete reunion, but a twist. If we can get it done right ... then we will do it."
It seems as though they've figured out the right way to do it. Or, in other words, when asked about doing a reunion, Stamos replied: