Kelis' Jaw-Dropping Cover of Nina Simone Proves Just How Underrated She Is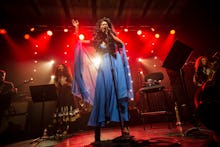 On the anniversary of soul legend Nina Simone's death, fellow singer Kelis released a cover of Simone's "Feeling Good." Kelis took the stage at the Brighton Dome in the U.K. last May to perform the standard, and released the video Tuesday. "Feeling Good" is a live staple for the Food singer, whose deep, smoky voice carries the song beautifully. You can watch the live performance via The Line of Best Fit.
Two legends. Simone passed away on April 21, 2003, one year after receiving a breast cancer diagnosis. She created a standard in 1965 when she covered "Feeling Good," a song originally written for the British musical The Roar Of The Greasepaint, The Smell Of The Crowd; the song was later famously covered by Muse. Simone's passionate live performances cemented her spot as one of the greatest singers of all time.
Similarly, Kelis' live performance of "Feeling Good" is a fantastic reminder of why she's one of the most underrated soul singers alive. Her last album, Food, was woefully underplayed and overlooked. The record was a food-themed feast for the senses, the best of Kelis' career and one of the best of 2014. Yet most people still associate her primarily with her 2003 hit, "Milkshake."
She isn't done yet, though. Kelis recently worked with Italian disco pioneer and Daft Punk collaborator Giorgio Moroder on his forthcoming album, Déjà Vu, due to drop on June 12. Hopefully the release of this live performance is an indication of more new material to come from Kelis — her fans will take as much as they can get.