Waka Flocka Flame Announced He's Running for President With This Amazing Campaign Video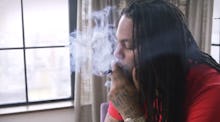 Waka Flocka Flame is for the children. As a 4/20 gift to the world, the Atlanta rapper announced he will be running for president in 2016. In a video for Rolling Stone, he made his priorities clear: education, raising the minimum wage and, of course, marijuana legalization.
"The first thing I'm gonna do when I get in office is legalize marijuana," Flocka said. "The president's gotta have a big, fat ol' blunt."
In the 4-minute campaign video, Flocka positions himself as a populist candidate, a true man of the people. 
"I'm not wearing a suit when I go to the [congressional] meeting. It's fucking irritating," he says. "I'm going with a tank top, flip-flop, a box of Backwoods, some 1882's, rolling one up, drinking a coffee. Fuck Congress."
Flocka also let it be known what he'd be rolling in those Backwoods: "Presidential kush."
The announcement is a joke, though Flocka insisted it wasn't in a tweet from 2012.
Rapper 2 Chainz also announced a seemingly serious campaign to run for mayor of his hometown, College Park, Georgia. While Flocka lists a number of hilarious policies, including banning dogs from restaurants and people with "feet over size 13" from the sidewalk, 2 Chainz's run isn't a 4/20 joke — though he too will likely push for legalization. The only hint of an agenda that Chainz has offered comes from his epic takedown of Nancy Grace on marijuana legalization, in which he rightly insisted that marijuana is inappropriately demonized in this country and that enforcement of anti-weed laws wastes taxpayer dollars.
Flocka had his own arguments for legalization: "A blunt a day, it take the pain away ... You look around, things ain't looking good, you roll a blunt, shit gonna be OK. Schoolwork getting too hard — don't touch the blunt. Wait til you're old enough."
Flocka is right, kids. The video is tongue in cheek, but he has a point. Recent research shared by the National Institute of Drug Abuse said that, "Those who start smoking as adults did not show notable IQ declines." And it does "take the pain away." It has several medical applications in the treatment of AIDS, Alzheimer's, cancer, epilepsy and chronic pain.
Our current president is unprecedentedly weed friendly as well. President Barack Obama told CNN: "I think carefully prescribed medical use of marijuana may in fact be appropriate, and we should follow the science as opposed to ideology on this issue." He also said there were more effective approaches to curbing drug abuse than throwing offenders in jail.
Obama is not about to throw his lot in with legal weed with the same enthusiasm as Waka Flocka Flame. But maybe the candidate that replaces him — probably not Flocka — will.
h/t Rolling Stone