One Powerful Hashtag Urges You to Wear Red Lipstick and Combat Sexual Assault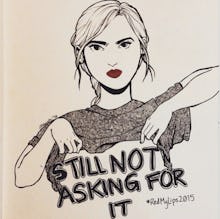 Red lipstick may be the finishing touch for a woman getting ready for her day. This month, it's also a sign of solidarity in combatting sexual assault around the world.
Danielle Tansino was assaulted while intoxicated in 2011 and decided to pursue legal action against the alleged offender. But rather than receive a fair trial, a district attorney reportedly told Tansino, "jurors don't like girls that drink" and therefore the case would not be brought to court. This experience inspired Tansino to launch the nonprofit Red My Lips the following year.
The organization raises awareness around sexual assault and victim blaming. Every April, which is National Sexual Assault Awareness Month, Red My Lips encourages survivors and their allies to wear red lipstick. This tactic is seemingly meant to allow participants to boldly draw attention to this issue. Since red lipstick is "historically connected with sexuality and attraction," according to the organization's website, wearing it calls into question the common myth that there is a connection between a woman's sexuality and her likelihood of being assaulted. Red lipstick, the website states, is therefore, "a fitting weapon with which to combat these damaging myths." 
The campaign encourages supporters to post images of this bold makeup choice to Red My Lips' social media accounts, which they are certainly doing in droves — more than 24,000 #RedMyLips posts have been added to Instagram, and participants, or warriors as the organization calls them, hail from 90 countries. 
These images, according to the website, provides a much-needed opportunity "to begin important conversations with those in our lives [about sexual assault], while demonstrating solidarity and support for all those affected." 
Considering that the World Health Organization estimates that 35% of women worldwide have experienced intimate partner violence or non-partner sexual violence in their lifetime, it's inspiring to see an effort to raise awareness about this phenomenon go global. 
Ultimately, the campaign aims to shift the conversation about this issue altogether. "The problem does not lie with tight or revealing clothes, makeup, or 'letting your guard down,'" the website states. "The problem lies with one person's decision to overpower and violate the body and spirit of another. And until we acknowledge and address this reality, the worldwide pandemic of sexual violence will continue." 
Thanks to Tansino's inventive efforts and the solidarity and support of thousands across the globe, perhaps this important goal will soon become reality. 
h/t Vocativ