Video Shows Man in "Don't Shoot Me Dead" Protest in August, Now He's Been Killed by Police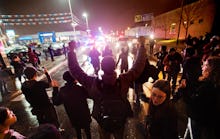 A haunting video from last year has surfaced of a black man killed by St. Louis County police officers Friday night.
On August 17, St. Louis Post-Dispatch photojournalist David Carson recorded 23-year-old Thaddeus McCarroll chanting with a group of young men and women during a protest near Ferguson, Missouri. It was eight days after Officer Darren Wilson had killed Michael Brown.
The group is holding signs and chanting the phrase, "I got my hands on my head ... please don't shoot me dead."
Eight months later to the day, McCarroll was killed by police. 
Carson re-posted the Vine recording to Twitter on Sunday, along with a caption identifying McCarroll as the young man "sitting on the left."
The video takes on chilling new significance in light of what happened over the weekend.
On Friday, the St. Louis County Police's Tactical Operations Unit arrived at the Jennings, Missouri, home of McCarroll's mother after she asked them to remove her son because his behavior was "not normal," USA Today reports. McCarroll was allegedly observed by police walking through the house carrying "several knives and a samurai sword." His mother said he'd been talking about going on a "journey" and a "mission."
After an hour of negotiation, police were able to lure McCarroll outside, according to the report. He walked out carrying a knife and a Bible. The police told McCarroll to drop the knife, and when he refused and continued walking towards them, officers fired a "less than lethal round" in an attempt to disarm him, ABC News reports. After that, police said,  McCarroll charged at the officers, who opened fire and killed him.
The police department released grainy body cam footage of the incident on Saturday.
"My officers took every precaution to safely resolve this situation," Police Chief Jon Belmar told reporters. According to ABC News, the officers involved have been placed on administrative leave while the department investigates the incident.
Observers have speculated that McCarroll suffered from mental illness, though no official statement has been made to confirm this. In any case, his death marks yet another instance of police using lethal force against unarmed or minimally-armed black men whose primary offense is exhibiting erratic or unexplained behavior. Kajieme Powell, Ezell Ford, Charly Leundeu Keunang and Anthony Hill are all other recent examples.
h/t @Nettaaaaaaaa