The Newest 'Little Prince' Trailer Is Here — And It Will Melt Your Heart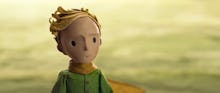 "Growing up is not the problem. Forgetting is."
If you were a childhood fan of The Little Prince, the Antoine de Saint-Exupéry book from the 1940s, chances are you've not forgotten it. Perhaps you've not even fully grown up. But even if you have, or even if you've somehow forgotten, the new animated adaptation of the French novella is here to take you back.
As depicted in the new trailer, the film adaptation is going to tell the same story as the original did, but with a twist. Much like the beloved movie version of The Princess Bride, this film frames the story in a contemporary narrative. A young girl whose mother has set her on the rigid, gray path to success seeks comfort in a new friendship with an older, wiser friend.
As opposed to the initial trailer, which was entirely in French, this is the teaser for the English version of the film. Despite not being in a Romance language, this trailer is no less beautiful, largely due to the gorgeous animations.
It's clearly counting on nostalgia. Even this trailer promises the chance to "rediscover one of the most beloved stories of all time." There's a lot of love for The Little Prince out there, but the filmmakers were smart to set the story in a contemporary framework. That way, younger viewers and those less versed in the source material can still connect to its powerful, touching story.
Plus, if nothing else appeals to you, the all-star cast for the English film should. Jeff Bridges is sounding particularly at home in his gruff-mentor voice here.
The film's American release date is still to be determined, but Le Petit Prince will be released in France in July. Watch the new trailer below.