Listen to Kurt Cobain's Newly Discovered Cover of This Classic Beatles Song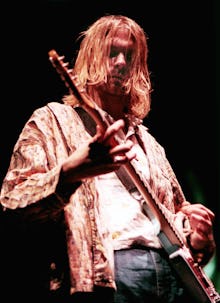 Twenty-one years after his death, we still haven't figured out Kurt Cobain. And the more people dig, the more unprecedented things they learn. Recently, Brett Morgen, the director of the upcoming Cobain documentary Kurt Cobain: Montage of Heck, unearthed an unreleased acoustic recording of Cobain singing the Beatles' "And I Love Her." It offers a glimpse at the softer, more romantic and introspective side of the endlessly fascinating musician.
He loved the Beatles: The original Beatles' version appears on their third U.K. LP A Hard Day's Night. It's defined by its straightforward lyrics and stripped-down aesthetic, which is what Cobain admired about the band.
"Kurt loved the Beatles because it was just so simple. Well, it seemed simple," Dave Grohl, the former drummer for Nirvana, Cobain's band, told Access Hollywood in 2012. "They sound easy to play, but you know what? They're fucking hard."
The tender, romantic lyrics of "And I Love Her" sound out of place given Cobain's grunge ouevre, but the message of love and respect fits perfectly with his progressive personality and beliefs. He had tremendous respect for women. He took a strong stand against our culture's patriarchy.
"I just always felt that [women] weren't treated with respect. Especially because women are totally oppressed," Cobain said in a 1993 interview. He was an outspoken advocate for gender equality, preaching especially that we need to re-educate men on how not to mistreat or rape women.
Kurt Cobain: Montage of Heck, coming to HBO on May 4, will likely explore in depth these rarely seen sides of Cobain. The material Morgan has unearthed will hopefully add a lot more nuance to the way we remember Cobain — as a tender human being, not as a monolithic legend.
h/t NME