This Canadian Pop Musician Is About to Be the Next Big Thing in the U.S.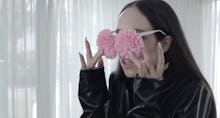 Allie X has been gradually introducing her music to the world, one song, video and GIF at a time. Her first single, "Catch," came early in February 2014. It caught immediately. Time had already declared "Catch" a "perfect debut pop single," and Pitchfork praised the song as "quite the introduction to the Toronto-born artist." It then exploded onto the pop scene when indie pop advocate and most-followed person on Twitter, Katy Perry, plugged the song on the service.
A little more than a year after her first hint of a big break, we don't know much more about Allie X. The singer is hesitant to speak about her own life and she's known to wear sunglasses to obscure her eyes. But on Tuesday, the mysterious musician released seven songs from her debut release, Collxtion I. They're absolutely incredible.
Allie X, whose real name is Alexandra Hughes, is a classically trained Toronto-bred singer and pianist. After spending the early part of her career in Toronto working with various local bands, Hughes made a pilgrimage to Los Angeles in search of a better scene. 
"There's a culture around music and writing in Los Angeles that doesn't exist in Toronto," she told Bullett in March. "In Toronto there's a lot of interesting music being done, but it doesn't necessarily go anywhere ... In Los Angeles, everyone is going for broke, and as a songwriter, you're going to write a song a day or two songs a day."
You can hear that careful honing in her music. Each song is a careful mix of idiosyncratic styling and perfectly executed pop formula. She's a quick study as far as her public persona goes, too: The 20-something singer keeps details about her former life in Canada largely a secret from the press. Taking her cue from other artists with mysterious origin stories, like Lana Del Rey and The Weeknd, Hughes told CBC News, "My relationship with the public I want to be very much like any other relationship, where you get to know each other a bit before you reveal information."
That's the meaning of the X that shows up in her name and throughout the music she's released.
"For me, X is the unknown," she told V Magazine. "That indescribable part of your life equation that you're trying to figure out. I feel like I've been five different people in my life and I'll probably be five different more as life goes on. I'm trying to figure out if I'm a good or bad person."
That penchant for darkness mixed with an ear for pop has Allie X rivaling Lana Del Rey. Hughes' music may seem like bubbly pop, but darkness cuts through its heart; Carl Jung's collective unconscious and eerie medical references flow through the lyrics. It's not immediately clear who or what Allie X is trying to be, but it's clear that she's doing something totally new. 
"It isn't an EP or an album," Allie X told Teen Vogue of her new release. "It's a collection — a visual, conceptual and sonic multi-media experience."
Whatever it's called, it's fantastic; multimedia aside, the electro-pop holds up on its own. Allie X's elaborate, mysterious introduction may be schtick, but her music is the real thing.