Lil Wayne Will Soon Go From Hip-Hop Punchline to Major Comeback — Here's Why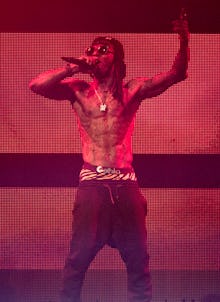 For the past few years, Lil Wayne has been hip-hop's walking punchline.
Once a Dirty South gangsta rap legend, his increasingly eccentric behavior — from his misguided ambitions to play rock 'n' roll, to his leopard print jeggings fashion sense and heinously bad raps — has had the hip-hop community wondering what became of the star. What's perhaps even worse than the drop-off in his music is his "apparent indifference to his own decline," as Pretty Much Amazing wrote in their review of 2013's I Am Not A Human Being II.
But all that might be changing — the old Wayne might be back. He's been releasing new music again, and he sounds better than he has in years. His recent mixtape, Sorry 4 the Wait 2, showed him in the process of returning to his hilarious and endlessly quotable form. The most recent single, "Hollyweezy," offers a strong take on the current heavily auto-tuned melodic rap trends — a style he helped birth. He has another tape, Free Weezy, coming soon. Song by song, Wayne is climbing back to his legendary status. And when his long-awaited Carter V finally drops, Wayne seems poised for a major comeback. 
"The greatest rapper alive." Before the lean seizures and the long spells of jail time, Lil Wayne's own proclamation that he was "the greatest rapper alive" was at least believable. Wayne was prolific, releasing numerous mixtapes between some of his studio albums, all of them strong enough to sell as LPs. Every one showcased his lyrical brilliance and striking humor.
His command over the mixtape format allowed him to reinvent his career and artistic persona several times over from gangsta to psychedelic visionary to martian. The way Wayne leveraged that mixtape promotion into record sales revitalized that culture for the younger generations of rappers like Drake, Mac Miller and A$AP Rocky, all of whom have built careers off the strength of their free offerings.
Wayne used his mixtape momentum to make The Carter III far and away his critical and commercial peak. It moved 2.88 million units in 2008, despite a leak and despite one of the worst ever periods of overall record sales. But more striking than the numbers was the way he "broadened what was thought possible for a rapper," as Complex wrote of Wayne's 2008 peak. "He was still rapping, retaining his innate cleverness and style, but had such intoxicated confidence that he didn't need to live by the formal limitations adhered to by lesser MCs."
That's the Wayne who's coming to life once again. He's still got that effortless swagger. His recent verses for Nicki Mianj's "Truffle Butter" and Tyler, The Creator's "Smuckers" show the rapper can still work himself through tangles of double entendre with ease. On his recent "Fingers Hurting," he rapped "Got that old Juvie bumpin', talkin' bout the third ward / The D.A. was a dick and the judge was a jerk off." It was a classic, twisting Wayne pun.
His impact. Lil Wayne is the surprising inspiration to rap's freshman class. Young spitters like Big Sean, A$AP Rocky and Chance The Rapper have all sung his praises. "Lil Wayne is a legend," Kendrick Lamar said on The Kidd Kraddick Morning Show. "People forget a lot of the work he's put in. And what he's done for hip-hop culture is phenomenal." Lamar clarified that belief last week, adding in a Twitter Q&A that Wayne is still a rap phenomenon. 
More people need to recognize that. Up-and-coming Atlanta rapper Young Thug is so inspired by Wayne — and so sure Weezy's lost the plot — that he nearly called his most recent album Carter 6 to extend the legacy of Wayne's famous series.
Wayne didn't exactly interpret the move as a compliment, though. "Carter V coming soon," Wayne told an audience at a recent tour stop, "ain't no motherfuckin' such thing as Carter 6." After a threat of legal action, Young Thug hastily changed his album's name to Barter 6. But it doesn't change much about the album's intentions — it's a backhanded compliment. The fact that he wants to take over Lil Wayne's legacy is only proof of its power.
Wayne's presence still looms large in the genre, and though many are trying to write him off, he's still a legend. He's likely kicked the codeine habit that his been debilitating to his health and productivity, and the man who changed hip-hop doesn't seem to be slowing down at all.
There's little reason to think that the Carter V won't be incredible once Wayne manages to free himself from his label and regain creative freedom. As MTV News' Rob Markman rightly argued, "Wayne is best when his back is against the wall." Weezy is back.
Correction: April 22, 2015