Jay Z's Attempt to Start His Own Streaming Service Is Backfiring Spectacularly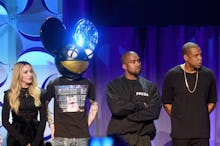 When Tidal announced its collaboration with Jay Z on March 30, stakeholder Kanye West said, "This is like the beginning of a new world." Jay Z's streaming service promised to offer high-quality exclusive content for $10 to $20 a month from artists like Rihanna, Jack White and Daft Punk. But less than a month in, Tidal is already a spectacular failure — and it's not just growing pains. 
On Monday, the Tidal app went blazing down the U.S. iPhone download chart, dropping out of the ranking of the top 700 iPhone apps. By comparison, as of April 20, Pandora held the No. 3 spot and Spotify sat at No. 4. To make matters worse, those apps have actually surged in popularity since the new Tidal was introduced. According to BGR, it's the first time ever that two streaming services have simultaneously appeared in the top 4. 
At less than a month old, Jay Z's service is not only failing, it's backfiring spectacularly.
Backfiring: When Tidal premiered its app and implicitly berated Spotify for its meager artist pay-outs, something very interesting happened. The day after Tidal's launch, Spotify surged back into the top 40 iPad apps for the first time since November. In another spectacular backfire, while Tidal was busy differentiating itself from Spotify, Spotify's popularity was confirmed fairly dramatically. 
Jay Z has explicitly said that Tidal isn't out to compete with Spotify, but he's also pushing a collaboration with Soundiiz, a service that transfers playlists from one streaming app to another. There doesn't seem to be much demand for it though: Spotify announced on April 21 that it's worth more than the entire U.S. music industry.   
Tidal's problems aren't limited to its main competitor. On April 17, reports surfaced of internal shake-ups at Tidal, and the company confirmed that the CEO had been replaced. In addition, about 25 people were reportedly taken off the Tidal team, a move the company called "streamlining" for "redundancies," though it denied that 25 people were forced out. Call it what you want, but the company is having a difficult transition.
Meanwhile, Tidal's most popular value proposition — their exclusive access to some of the biggest names in music — isn't doing them much good. Tidal-exclusive artists are struggling to find an audience. On April 16, Rihanna moved her latest music video, "American Oxygen" from Tidal to Vevo just 10 days after its initial launch as an exclusive Tidal track. On Tuesday, Rihanna premiered another new song, an interlude called "James Joint." She bypassed Tidal altogether and put the track straight on her website. 
Tidal's doom: "I think Jay Z is about to find out the limits of his celebrity," David Pakman, a venture capitalist and former digital music executive, told the New York Times in March. He was right.
But perhaps Tidal really has helped the industry — by demonstrating how not to launch a streaming service and drawing a lot of attention to the services that have a clear purpose. Spotify isn't perfect, but it's better than Tidal. Though Spotify's royalties are painfully low, they still pay about 70% of their revenue to rights holders. With the music industry foaming at the mouth over streaming, we should direct that energy toward improving services that aren't Tidal, not toward splitting the market.