What It Means for Sherri Shepherd to Be Forced to Be a Mother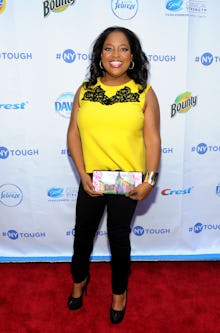 In this technological age and the flourishing of nontraditional families, what does it mean to be a mother?
For former The View cohost Sherri Shepherd, all it takes is a verdict.
TMZ reported Tuesday that Shepherd lost the court case against her soon-to-be ex-husband, Lamar Sally, from whom she separated last year. In this suit, Shepherd asked to dissolve her legal connection to the 7-month-old son they agreed to have via surrogacy, with Sally's sperm and a donor's egg.
Shepherd and Sally, who wed in 2011, split six months into the surrogate's pregnancy. With the divorce pending, and the rumor being that she didn't want another child but was pressured by Sally, according to E! News, Shepherd "filed papers asking for the court to waive her rights and responsibilities as a parent," so that she would be absolved of financial responsibility. But a court in Pennsylvania deemed Shepherd the legal mother of the boy. A new court date has been set to determine how much it means, in terms of child support, for Shepherd to be the mother.
While media outlets squeal with headlines decrying Shepherd as the "baby mama!," what is significant is that the entire identity of being a mother is out of the woman's hands in Shepherd's case. Much like debates around abortion, what appears to have happened here is a disregard of the woman's request in favor of the child's perceived well-being. In Shepherd's case, the child is not biologically hers at all. Here, then, the value of "mother" trumps that of "woman."
This case raises a lot of questions: What does it mean to be a mother in 2015? Is it the same as being a parent or caretaker? Does having a biological connection mean the woman must act as a mother? When is that relation forfeited? And, perhaps most potently in this case, does the woman even have a say in becoming a mother? Sally claims Shepherd "never said she didn't want the baby," according to People — does that automatically mean she did? 
In a time when women's reproductive rights are "under attack," the connection between Shepherd's case and those of countless women who are denied their right to control their bodies is apparent. Shepherd is already a mother to a 9-year-old boy from a previous marriage. Yet, regardless of the fact that Shepherd clearly stated she wanted nothing to do with the child, the court has decided that she must be his mother, especially because the surrogate does not want to be the mother to the child, either.
And we certainly can't have a child without a mother, right?
What the Pennsylvania court, like other state courts ruling against women, has demonstrated is the notion that what a woman wants doesn't matter. That there must always be a "mother." 
Even if it has to make one.