Meet The Group of Young Female Coders Who Developed A Yelp-Like Safety App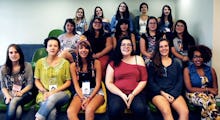 If you've ever used your phone to find the best burger closest to your job, a new app developed by a group of young female coders might feel equally handy. 
In February, more than 70 young female coders from five international cities came together with one goal: to find inventive solutions to longstanding problems through coding. During the International Girls Hackathon a group of Brazilian women, ages 18 to 22, developed "Não Me Calo" ("I Will Not Shut Up"), an app that "lets women review and rank public venues based on the level of safety they provide for women and girls." The app, billed as a "Yelp for women's safety" by the hackathon's organizers, the Global Fund for Women, won the overall competition on Tuesday. 
"Não Me Calo" uses mapping technology to identify and rank venues that allow gender-based abuse and harassment to persist. This not only allows other women to wisely spend their time and money elsewhere, but also provides useful data that can be presented to business owners and government representatives to combat such treatment.
Não Me Calo prevailed over several teams, including one from Trivandrum, India, that created a secure sex education website, for example, and another from Oakland, California, that developed a wearable sensor connected to a mobile app to help locate abducted or domestically abused girls and women.
Given the underrepresentation of young women in STEM fields, it's not only inspiring that these young women are given a significant opportunity to code, but to also see them using those skills to address issues they face in order to produce real change. Hopefully, this hackathon will be the first of many to provide young female coders with such an important opportunity. 
h/t Mother Jones