This One Stat Perfectly Sums Up the Lame Reality of Online Dating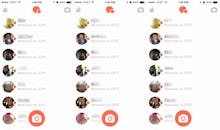 Any online dater knows the routine: You decide it's about time to test out a new dating app ("I'm over Tinder — how about Hinge?"), you spend a few days crafting the perfect nonchalant bio and consult a few friends about which profile picture makes you look really attractive (you know, without treading into catfish territory). What happens next?
Absolutely nothing. At least that's what a 2013 survey, recently highlighted by Pew Research Center, discovered for many Americans:
"One-third of people who have used online dating have never actually gone on a date with someone they met on these sites."
We may be matching, but a huge chunk of us are guilty of window shopping or simply failing to turn our connections into dates. Twenty years since the launch of the behemoth Match.com, online dating has transformed the way we approach and talk about dating (Pew also found that, today, 59% of Americans think online dating is a good way to meet people). 
But the intended effect of Tinder, OkCupid, Match.com and their ilk hasn't always panned out — and the estimated 22% of adults ages 25 to 34 who are swiping aren't always looking for love.
It's an ego boost, not a date. "It's not necessarily an app where the objective is meeting the person," Lorenzo, 29, a frequent Tinder user, told Mic. "It's another way to explore."
What's motivating that exploration? As anyone who has ever used a dating app knows, the chance to have people swipe right on your face and essentially confirm your attractiveness can be more of a thrill than the prospect of a date itself. Tinder processes over 1 billion left and right swipes per day, but in that same amount of time only 12 million people mutually match, according to the New York Times.
As Caleb, a 31-year-old man who uses Tinder but has never actually gone on a Tinder date, previously told Mic, "It's fun to pass the time in the more superficial 'Hot or Not' sense. I get about two to three matches per day. But if I'm swiping occasionally throughout the day, it's an onslaught and I get 10 to 20."
In some cases, that thrill eventually wears off. "After the first week of excitement and the second week of enchantment, it felt more and more like I was swiping right for the validation that I would get," Georgia Ho wrote on Medium. 
Just checking out the merch: With so many options and such indistinguishable profiles, a kid in a singles candy store may burn out or get cold feet before buying (not to mention have trouble picking out their candy). 
Plus, with the shadiness of online dating — the awkwardness of seeing people you know, the rampant scams, the horrific, brain-draining dates that result — it's no wonder a third of us simply swipe without taking things to the next, IRL level. 
The lack of real-life dating may be an aggravation or stressor to some — including, we bet, more than a few of those Pew respondents. But it's easy to separate the simple act of making a profile from, as Cosmpolitan's online dating-fatigued writer Nicole Rupersburg put it, "love brokering." Which makes it all the easier to keep swiping without actually dating. 
There's nothing wrong with a little window shopping.