Meet the Civil Rights Lawyer Who's Helping Bring Marriage Equality Nationwide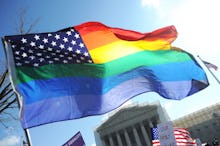 "If your generation were the only one voting, I wouldn't have to do this job."
Coming from Susan Sommer, senior counsel and director of constitutional litigation at Lambda Legal in New York, this is a big compliment. After 15 years of supervising court cases for the nation's oldest legal organization dedicated to expanding LGBT civil rights, Sommer is nearing the end of a marathon. On April 28, more than a decade's worth of her work will come down to two and a half hours of oral arguments in front of the U.S. Supreme Court.
The issues at hand: whether the 14th Amendment requires states to allow people of the same sex to marry, and whether a state can be compelled to recognize such a marriage performed out of state. Sommer specifically is leading Lambda Legal's effort in Henry v. Hodges, which seeks recognition of out-of-state marriages of same-sex couples and their rights as parents to their children. Henry v. Hodges, itself the consolidation of cases presented by four different families, has been folded in with another Ohio case, as well as lawsuits from Michigan, Kentucky and Tennessee, to form Obergefell v. Hodges, an über-case with dozens of plaintiffs that will likely settle the issue of same-sex marriage in the United States once and for all.
According to the preliminary statement of Lambda Legal's brief on Henry v. Hodges, "This civil rights case is about family and the need of children born in Ohio to have their birth certificates accurately identify their legal parents." According to Sommer, the case is about something much more fundamental.
It's about children. A Brooklyn-based mother of three with two degrees from Yale and a finely calibrated sense of social justice, Sommer's motivation for her work on Henry v. Hodges — and her work at Lambda in general — is rooted in her own experience as a mother.
Summer told Mic her interest in LGBT civil rights law can be traced back to a child's party in Brooklyn's Park Slope neighborhood in the late '90s, where she spotted a pair of identical twin boys. "One was running around, wearing plastic armor with a sword and a cape, and the other was playing with Barbie dolls, and I remember complimenting the parents on the fact their children were so unique," she said. 
"The parents confided in me that they were very worried about the boy who was playing with the dolls ... and they were taking him to a specialist who could help track," (she put finger-quotes around "track,") "him more towards behaving like a hetero he-boy. They said that they were fine with gay people — the reason they were doing this was because they knew how hard life is for gay people in our country, and they wanted to protect their child from that if they could."
Sommer choked up recalling the story. "I remember that moment, having this epiphany. The problem is the world around this child — there's nothing wrong with your child," she said. "It put this movement into a much starker relief, being a young parent and realizing that those of us who have the wherewithal to be activists owed it to generations to come to fix the world in which they were going to live."
The subsequent search for a job that would serve the public interest of LGBT Americans, a group still subject to criminal prosecution in more than a dozen states at the time, took Sommer to Lambda Legal, with the encouragement of an old law school roommate who worked there.
Lambda Legal, the nation's oldest and largest LGBT legal organization, had to prove its courtroom mettle even before it was founded. After the group's application for incorporation was denied in 1972 on the grounds that its proposed activities were "neither benevolent nor charitable," Lambda Legal became its own first client, and the decision was overturned in 1973 by the New York Court of Appeals. Since then, Lambda Legal has won some of the most important LGBT civil rights cases in history, ranging from the nation's first HIV/AIDS discrimination case to Romer v. Evans, a landmark Supreme Court decision that declared attempts to prevent LGBT Americans from seeking legal protections to be unconstitutional.
But Lambda's most famous victory to date would come three years after Sommer joined the organization, with Lawrence v. Texas in 2003, which declared statewide bans on sodomy (that is, same-sex sex) to be unconstitutional. During the lead-up to the case, Sommer became known as the "Sodomy Queen" around the office. 
"I sort of cut my teeth at Lambda on sodomy," Sommer said. "The Lawrence opinion has a doctrinal and philosophical point that is very important in the marriage movement, and that is the fundamental right to make your own decisions about something as personal as sexual intimacy and your relationships."
"I sort of cut my teeth at Lambda on sodomy."
Lawrence started the gay marriage domino effect. In his infamous Lawrence v. Texas dissent, conservative Supreme Court Justice Antonin Scalia presciently declared that "if moral disapprobation of homosexual conduct is 'no legitimate state interest' for purposes of proscribing that conduct ... what justification could there possibly be for denying the benefits of marriage to homosexual couples?" As luck would have it, the Massachusetts Supreme Judicial Court would issue a such a decision 11 months later. Since then, Lambda and its lawyers have been fighting legal battles in the name of marriage equality across the country.
"Lawrence was very important for the marriage movement, but a lot of things have been important," Sommer said. "It's taken work coming from so many directions. Americans getting to know gay and lesbian people in their midst, people standing up and being open. But part of the way that people could stand up and be open was if they were not labeled criminals once they did."
Lambda Legal's work has paved the way for many of the American legal system's most important LGBT-rights victories (victories so important, in fact, that other civil rights organizations have even tried to claim credit for Lamda's successes). While other LGBT organizations have invested millions in marketing, cocktail parties and glamorous headquarters, Lambda Legal seems at home in its plain office on Wall Street, where friendly signs next to its bathrooms remind visitors that the organization doesn't engage in "gender policing."
Now, Lambda's work has culminated in Henry v. Hodges, a case ostensibly rooted in a question of birth certificates. Ohio currently refuses to print birth certificates listing same-sex couples as the parents of children born in the state, even if the parents are legally married in another state — a decision that represents a dangerous legal burden for same-sex parents. 
"They're both the moms! They don't think in terms of who the 'real' mom is."
Henry's plaintiffs include four legally married same-sex couples seeking recognition of their marriages in Ohio, as well as an order requiring the state to place the names of both parents on their child's birth certificates.
At least one of those couples has already faced a crisis situation where the lack of an accurate birth certificate endangered their child. The baby had "some kind of bad childhood infection, and their pediatrician said to take the baby right to the children's hospital," Sommer said. "It was not the bio-mom who took the baby — the bio-mom stayed at home with their older child. They're both the moms! They don't think in terms of who the 'real' mom is. She gets to the hospital, and because the hospital's records only list the bio-mom, this woman arrives with a very sick 4-month-old baby, and the hospital is like, 'We don't know who you are, and you can't authorize treatment.' They had to delay treatment of the child until they could reach the bio-mom at home — it was the middle of the night — and have her say that this was her baby."
The incident, which occurred after the suit was first filed against the Ohio Department of Health and isn't listed in the litigation, clearly still infuriates Sommer. "It makes your blood boil. A sick child's emergency care was delayed. This not just abstract hypotheticals — this is the day-to-day lives and fears of these families."
Although "birth certificates feature large in that litigation because that was the emergency that got these couples into court," Sommer said, "the case is seeking recognition for everything."
"An argument that ignores the U.S. Constitution." When prodded, Sommer maintains a professional view of the legal teams that Lambda will be facing at the Supreme Court — "they're no slouches," she concedes — but doesn't hold their briefs in so nearly high esteem.
"The thinness of the arguments is becoming more and more dramatic," Sommer said, invoking other landmark Supreme Court discrimination cases, including Loving v. Virginia, the 1967 case ruling that declared laws banning the marriage of people of different races to be unconstitutional. "A huge amount of what they're arguing is, 'Just let the democratic process take care of this. You don't need to enforce the constitutional rights of this minority, it'll all work out in the due course of town.' These are the exact kinds of arguments that were used in desegregation efforts: 'Oh, let's go slow, eventually the good people of these states will do what's right, but let them do it in their own time and it'll be best for everyone.' But it's not best for everyone."
Sommer is equally unpersuaded by arguments submitted by certain politicians declaring the issue of marriage best left up to the will of the voters. "All about these unbelievably abstract notions about federalism and the democratic will of the people and 'don't demean the voters by taking away their ability to debate this issue.' Meanwhile, you have a sick baby in the arms of his mother, who is being told, 'We can't treat your child until we know who his real parents are.' There's nothing abstract about this."
What's next? Court watchers and legal experts generally agree the Supreme Court is likely to rule in favor of same-sex couples. But if marriage equality is expanded to all 50 states, Sommers doesn't see an end to the battle for full legal equality. 
"We need to make sure that, if we win," she says, seemingly hesitant to tempt fate too much, "that there's everyday equality for married couples. In New York after we won marriage equality, we saw resistance that was just lawless."
The rise of "religious freedom restoration acts," or RFRAs, represents one threat to LGBT equality in a post-marriage legal landscape. "We are seeing in different parts of the country a pushback where there's an effort to legalize discriminating against gay people around their marriage rights," Sommer said. "We need to watch to make sure that religion is not being used as an excuse to withhold basic services in the public marketplace."
Just five days before the Supreme Court is set to hear Obergefell v. Hodges, Lambda Legal is trying to raise money for those future battles. Board co-chair Karen Dixon announced Thursday that she and wife Nan Schaffer will be matching donations dollar for dollar — up to $1 million — from now until the Supreme Court decision date (likely in late June). The couple will even donate one dollar for every use of the hashtag #IDO on social media.
Ahead of next Tuesday's oral arguments, however, Sommer is keeping her focus on the people she's fighting for. "Gay and lesbian couples and individuals have waited long enough. How many more children need to be born without security, need to grow through a childhood living under this stigma? How many people have to die without the comfort of knowing that their spouse will be recognized for sure?"
The forcefulness of Sommer's personal convictions is striking, but she is quick to point out that Henry v. Hodges represents the efforts of hundreds of people and thousands of supporters. 
"We have two incredibly great people getting up and making these arguments, but that's the tip of the iceberg. We could not be in better hands for those thirty minutes, but this is the culmination of many decades of work by untold numbers of people, in so many ways," she said. 
"From the same-sex couple standing up and saying, 'This is my partner,' to the people who slogged away writing these briefs. It's incredible to have reached this day."